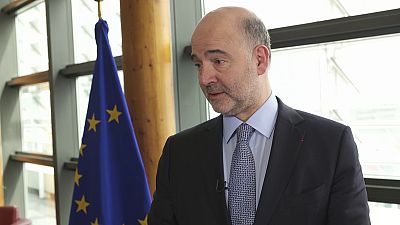 Maithreyi Seetharaman, euronews:
Key elements like risk sharing..you brought this up and institutional development – they are all very contentious – How do you advise Europeans, governments, the commission..the council..to move ahead and deepen the EMU with all of those issues still sitting on our shoulder?
Pierre Moscovici, European commissioner for economic & financial affairs, taxation & customs:
I think now we need to have a deeper reflection. We are today in a Union that is 60 years old, with huge achievements – peace, prosperity, unity – Who would have dreamed of a union of 28, involving those countries who were in the Soviet bloc only 30 years ago – It was impossible, Who would have dreamed about a single currency for 19 members of the EU which are now member of the Eurozone, so at 60, you are quite mature ..as an institution you are still quite young. We are in time of crisis, we are in time of threats. The Brexit is main internal challenge we have to deal with it in a proper way, in an orderly way, in a friendly way too because we need to keep relationship with the UK tomorrow – it wont be a member of the EU but obviously a European country – There are outside external challenges – Donald Trump is a challenge when you look at the way he manages with multilateralism or protectionism. Putin is another external challenge, we have got terrorism, we've got refugee issues. In this time of difficult-ness (He mean difficulties) I think status quo is not an option. If we stay where we are then I think the forces which tend to unravel the union will be very strong. Divisions can be a strength and this is why status quo is not an option – then there are other options multi speed Europe or a way forward or a new ambition – and to me I am in those functions because I've got that portfolio and also..first because its my deep conviction – the main project for tomorrow – the economic and political project is the Eurozone. A stronger more ambitious Eurozone – Capable of creating not only Stability but also jobs growth and and to bring again Europe at the forefront of the world economy.
Maithreyi Seetharaman:
How high is the risk that this will all come to naught?
Pierre Moscovici:
The risk is high – lets face it, forces for status quo are here, even there are forces which are negative, populist. There are some people, look at my own country with Le Pen – who wants France to get out of Europe, to get out of Euro and a Europe and a Euro without France frankly speaking makes no meaning. But those populists they are not irresistible – they are of course strong in the elections but they lose all of them. Mr. Wilders lost the elections in the Netherlands. Madame Le Pen she is going to be defeated in France – But you cannot say ok, they've been defeated now – even defeated they are strong, they are too strong and the only way, not only to defeat them but make them get back, get down is to have a stronger European project – So I tell the pro-Europeans – Don't be so shy, don't be ashamed of being European – be proud of it. But not only proud of what you have done, but also proud of what you can do.