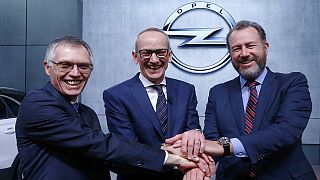 Business Line takes to the road this week; with the PSA-Opel merger announced and the Geneva motor show underway we consider the future of motoring.
US firm General Motors is pulling out of Europe selling its loss-making Opel-Vauxhall division to French firm PSA Peugeot-Citroen.
As the deal was finalised everyone involved sounded optimistic about the future of the European automotive market and talk of job losses and plant closures was muted.
But despite the region's latest buoyant sales figures, overcapacity hangs over Europe's motor manufacturers and in an era of electric cars and automated driving, they will have to do more than consolidate to preserve profits.