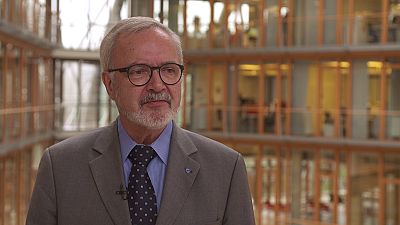 Werner Hoyer discusses his views on Europe's strategy to address a massive investment gap and whether there is incentive for private sector banks to start lending to businesses again.
Maithreyi Seetharaman: My last question to you – if you had to look at EFSI, the extension of EFSI 2 – the new banking regulations – Are all of these going to be a hinderance or something to push private sector banks to start loaning to these SMEs?
Werner Hoyer: I think that works quite well, but we should not expect too much. When we began the exercise with the Juncker Plan – we identified an investment gap of 700 billion euros per year. With the Juncker plan so far implemented we have reduced that by roughly 100 billion per year. So we are still at a huge investment gap. And we have to see this with a clearer view on productivity and competitiveness of Europe. And I believe that it's urgent to improve Europe's competitiveness again and the productivity growth because our competitors around the world have not been inward looking for the last 10 years like we have been. And this is our main challenge – to see what's happening in the world again and improve our competitiveness. And there it takes courageous steps to boost our infrastructure, to boost the digital economy and to give more hope, confidence and resolve to the private sector and in particular to SMEs.
Maithreyi Seetharaman: But will private banks start lending?
Werner Hoyer: Yes, I think if they are encouraged and helped. Let's be honest – for the private banks it has not been a very easy situation either, because the necessary cleaning up of the banking sector in Europe after the crisis led to more burdens on the commercial banks just as on the public banks and that meant more reporting needs and things that simply cost lots of money. So the maneuver space for the commercial banks has also been reduced over this time and public bank, I believe, has the job to make it a little bit easier for the private commercial banks to boost the investment engine again by financing good projects.