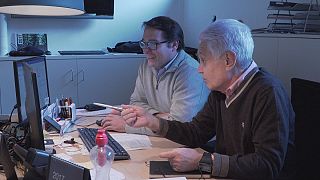 Up to one in every three business transfers fail, resulting in the loss of about 600,000 jobs every year in Europe.
This episode of Business Planet looks at a system in Barcelona that works especially well.
Facts on business transfers across Europe
Every year, around 450,000 companies and over two million employees are transferred to new owners.
Up to one-third of these transfers may not be successful. This means that every year Europe loses about 150,000 companies and 600,000 jobs.
Successfully transferred companies preserve, on average five jobs and have a much higher potential to survive since they have established customers, products and practices.
Reempresa helps small businesses in Catalonia with business transfers. Since 2011, it has managed 1,200 successful business transfers, saving more than 3,600 jobs.
Reempresa has coordinated the European project on Engaging Users for Business Transfers (EU4BT), funded by the EU

COSME

programme.
Useful links
We met with Albert who gave us some important information about what is often a crucial step in the life of an SME: buying an existing company.
Albert explained that every year in Europe more than 150,000 companies and 600,000 jobs are lost because of issues with the business transfer process.
About three years ago Eduardo Oltra Ort took over the SME Expocom — which provides security and telecommunications solutions — though the Catalan business transfer system Reempresa. The change has been smooth, partly because the former boss Rafael Arquimbau has never really gone. He is now a company employee.
"Rafaél has been like an adoptive father to me," explained Eduardo. "He has shared his experience and knowledge of the market, the sector, and has introduced me to suppliers. That has allowed me to use the knowledge he has used to grow the company over the last 35 years to continue the business."
"The system has allowed me to have direct contact with Rafaél from day one," Eduardo added. "We went way beyond signing a contract, there was a transfer of competitiveness and knowledge."
Speaking about Eduardo, former CEO Rafaél said: "He's a fresh pair of eyes, and with my knowledge about the company he can continue to grow the business."
The 15 jobs have been saved, and the company's turnover is on the rise. Above all, the company has strengthened its client base, which includes several major operators in the Port of Barcelona, and the city's famous cable car. Reempresa has helped sustain this company's long-term success.
And what's strange is that the system Albert has created did not previously exist anywhere in Europe.
"We have created a physical and digital small business marketplace that is working very well in Catalonia and Spain and now we are going to expand into fifteen more EU member states," explained Albert.
A digital platform, but also a one-stop shop, with experts and training sessions for sellers and future buyers.
Since 2011, Reempresa, which is co-financed by the European Commission, has transferred 1,200 companies and saved 3,600 jobs.
Finally Albert: it seems easier to take over an existing business than to start one from scratch.
Albert pointed out that, according to his studies, it is seven times easier to grow by buying a company that already has knowledge, a market and equipment.
More information at Transeo European Association for SME Transfer.
EU_Growth</a> <a href="https://twitter.com/sowaccess">sowaccess#reempresa improving BT matching platforms in EU! EU4BT.eu #smetransfersummitpic.twitter.com/iqw6ufptRa

— Reempresa (@Reempresa) May 24, 2016
Filming #BusinessPlanet#BusinessTransfers#Barcelonaeuronews</a> <a href="https://twitter.com/euronewsbiz">euronewsbizEU_Growth</a> <a href="https://twitter.com/Reempresa">Reempresapic.twitter.com/Pfd9pReyO8

— Serge Rombi (@SergeRombi) December 22, 2016