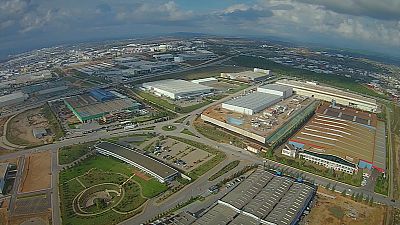 Many businesses believe Turkey's strategic location at the crossroads of Europe and Central Asia, and its skilled workforce is a winning formula.
Turkey, a rising regional hub for manufacturers:
The biggest car manufacturers have located factories in Turkey. One plant visited by Euronews produces buses mainly for export.
German automaker Mercedes has made one of the largest foreign direct investments in Turkey. In 50 years, it has put more than 960 million euros on the table.
Auto suppliers have developed the world's most unique manufacturing zone: 300 hectares are home to 90 companies in the sector. This system generates an annual revenue of 2.5 billion.
American multinational Procter & Gamble has been in Turkey for 30 years. A quarter of its production is exported. The rest goes to the young and dynamic domestic market.
"Twenty-five percent of Turkish population is below 15 years old," P&G Turkey CEO Tankut Turnaoglu told Euronews. "So that actually creates a really vibrant consumer market. And that combine with the upward mobility and the growth of the middle class makes turkey as one of the most attractive market global for consumer goods."
The company has invested 700 million dollars in Turkey. It injected 80 million in capital this year. It benefits from a supportive government framework and a favourable tax climate.
"Some of those incentives are in the tax area, some of those incentives are in the input area, on the import and making some of those imports at lower costs for the company, makes it very interesting for companies like us to invest in Turkey," added Turnaoglu.
Turkey is in the top 20 of world economies and has its sights set on the top 10 within five years.
Reaching this target required significant investment in the country's infrastructure.
A third airport is being built in Istanbul. And a new ultra modern sea port has been in operation for a few months."
Remote gantry cranes that load and unload containers from the largest container ships in the world. The fully-automated, computerised system provides a real boost to productivity.
Eventually this port could give a new push to the Turkish economy, and thus create – a new bridge to Europe and Asia.