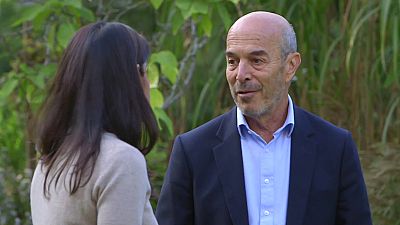 Real Economy's anchor, Maithreyi Seetharaman spoke to @ian_goldin, Author of The Age of Discovery about the economic impact of refugees. She asked him how can Europe be the humanitarian continent it wants to be, while balancing the fear of its citizens regarding of the cost of giving refugees safe haven.
Maithreyi: So what do we do to fulfill our humanitarian aspirations, economically what can we do to make sure Native workers don't feel that their jobs are threatened their economies are threatened because that's what it ends up coming down to?
Ian: Yes, and we see that in the politics – this rejection because of a feeling of a threat, both in terms of jobs but also in terms of different cultures – lack of assimilation of people, integration of people.
"So its absolutely essential that these things are dealt with. I think the numbers are important – and where Germany has been truly remarkable is that these numbers are large but Germany has a labour shortage and very low levels of unemployment, so if you have high unemployment one has to worry much more about this. I think it's very important that there is burden sharing – that countries have an equal responsibility, of course what they do will depend on their capabilities – what Sweden's been doing is quite remarkable in relation to its population size. And knowing that people are going to take jobs that locals won't do.
"There are massive labour shortage in many areas – Interestingly enough, even in Eastern Europe for example there is a massive labour shortage in certain skills. So absorbing people in the countries where they can work and then sending them to other countries if they cant work ..where they're skills exist. So, this is why Europe as a whole can solve the problem much better than any individual country can because you can allocate these needs and these capabilities across Europe.
Bonus links for further information
European Commission Analysis of Economic Impact of Asylum Seekers
International Monetary Fund Analysis of Economic Impact of Refugees