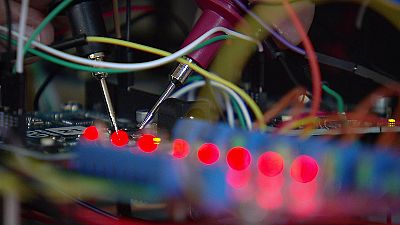 How can we protect electronic devices from hacking? Estimates suggest 50 billion will be connected to the internet by 2020.
We need to really champion those who have thought of a great innovative idea to actually bring it to the market...

DG Connect, European Commission
Researchers at Dutch SMEIntrinsic-ID in the city of Eindhoven are aiming to embed electronic chips containing a unique identifier into every device connected to the net.
"What we are working on is a device-fingerprinting technology," Intrinsic-ID's business development director Vincent van der Leest told euronews. "It is similar to human fingerprints, human biometrics. (By this) we are able to uniquely identify each individual device.
.Guardtime</a> & <a href="https://twitter.com/IntrinsicID">IntrinsicID announce alliance for new level of security for the #IoT. https://t.co/xE6iTWGE5S#blockchain#CiscoEIR

— Cisco

EIR

(@CiscoEIR) October 4, 2016
"We need this technology because everyday more and more devices are getting connected to the Internet. Pretty soon there will be up to 50 billion devices which will be connected to the 'internet of things.'
The chip fingerprints have been designed to be impossible to duplicate, clone or predict.
---
Tough environmental tests – such as exposure to extreme temperatures and voltages – are being used to ensure their reliability.
"These tests are very important for us, because we need to make sure that our technology works in our customers' facilities," explained Van der Lees. "Whether they are using our technology in sub-zero temperatures or whether they are using it in the desert, our fingerprinting technology should always work. It should always be reliable."
Innovation Radar Prize Winner
Intrinsic-ID's research has been recognised in Slovak city of Bratislava: it has been awarded the overall 2016 Innovation Radar (IR) Prize.
Director T. Skordas talks about #FET_eu achievements and #Innovation Radar Prize to IntrinsicID</a> in his latest blog <a href="https://t.co/7Ym6E1t3i8">https://t.co/7Ym6E1t3i8</a> <a href="https://t.co/QIiofBvLbF">pic.twitter.com/QIiofBvLbF</a></p>&mdash; FET_EU (fet_eu) October 6, 2016
The jury acknowledged the company's efforts to combine innovative research and a clear roadmap to the market.
"You normally distinguish between a simple invention and an innovation by a moment called commercialisation," IR Prize jury member Michaela Jacova told Euronews. "That is basically when an invention or good idea actually saves or makes money. So when it actually gets some kind of market attraction and it is validated by users, customers, companies that are willing to buy the product.
The Innovation Radar initiative is supported by the European Commission as a way to help innovators fulfill their potential.
"We need to really champion those who have thought of a great innovative idea to actually bring it the market," explained DG Connect's deputy director general Gail Kent. "The idea is to really show that not only we can invent and innovate, but that we can actually get a fantastic product that can be sold and brought to market."
Congrats to BENL innovator IntrinsicID</a> ! <a href="https://t.co/9aQV1sbYo7">https://t.co/9aQV1sbYo7</a></p>&mdash; Thomas Lambert (ThomasDCdiplo) September 27, 2016
That's precisely the road ahead for these innovators in the Netherlands who say they see a lot of market potential for their technology.
"We see great opportunity for this technology in several markets where security has really become important, like industrial, automotive, medical and also payment," Intrinsic-ID's chief technical officer Geert-Jan Schrijen told Euronews. "The total size of the market is around 20 trillion dollars. The security part of that (market) is estimated to be 20 billion (dollars)."
Intrinsic-ID says its technology has already been validated by both private and public customers in some of these fields.