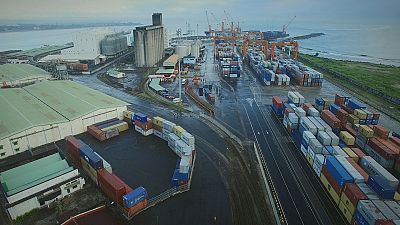 Madagascar's Port of Toamasina, the economic heart of the country. It alone sees three quarters of the island nation's maritime trade. In recent years the port has transformed and modernised, meeting the most stringent international standards and is set to receive more and more investment in coming years.
Historically, Madagascar has been thought of as a country halfway around the world, but today this is no longer the case. It is no longer a country on the the other side of the world, it is at the centre of the world.

General Manager, Port of Toamasina
Jean Berthin, the General Manager of the Handling Corporation of Conventional Goods (SMMC) said: "We reviewed the handling, storage and security procedures taking into account two things: modernization and standardization of the operating system."
"Our objective is to create and to put in place an efficient center for port logistics. That is how we will increase traffic and thus keep our customers satisfied," he continued.
As a result, almost everything at Toamasina is now computerized, from the movement of containers to customs operations – a method that was developed through a partnership between Madagascan authorities and large private shipping companies.
According to a survey by one such company, Toamasina is in the top five ports in sub-Saharan Africa in terms of productivity. Extensive transformation work is due to begin next year as $650 million is funneled into the area.
The enormous investment should create a new storage area and extend the breakwater but above all, lengthen the dock by five hundred metres, thereby increasing the 'draft' – essentially the distance between the waterline and the bottom of a vessel's hull.
They want to increase the draft to 16m in order to allow larger vessels carrying heavier loads.
Michael Ratrimo, the Director of Madagascar International Container Terminal Services (MICT) said: "The investment will really help the Madagascan economy. There will be be many more ships and aircraft arriving which will then reduce costs and equally boost the economy."
There are also plans to adapt the infrastructure of the port to fit the ever changing economic environment. Madagascar is currently developing its utilization of the island's abundant natural resources. In addition, the country intends to capitalize on the booming Southern shipping route to Asia, Africa and Latin America.