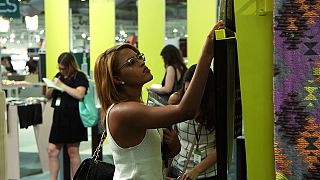 More than 350 exhibitors have been displaying their products to some 4,500 buyers from across the United States in a New York warehouse for the July edition of the Première Vision New York.
Their choices will determine next year's trends when it comes to fabrics, textile design and accessories.
"Première Vision New York helps companies working in the textile, accessories, but also leather and manufacturing industries to target the American market, which is strategic because it's the second fashion market in the world after Europe," explains Première Vision manager, Gilles Lasbordes.
Morocco is among the countries intent on cutting out its share of this market.
Ismael Daoudi, founder of Platform and Design, is hoping to increase revenue for his ready-to-wear company on the US market by 25%.
Working with European companies in the past years, Moroccan manufacturers have learned to be more flexible and deliver faster. Crucially, they have learned to diversify.
"When you visit a Moroccan factory today, they don't specialise in a single product, you'll find jackets, shirts, dresses, trousers, etc… something that's not available in Asia or in countries like Turkey for example," he says.
Another advantage for Morocco is a 2006 free trade deal with the United States. At one condition: the clothes must be 100% made in Morocco. This has even become a selling point.
"We have decided to make it a strength. So I had this Casablanca 1987 embroidery made especially, because there's no reason why we shouldn't say we're based in Morocco, so we make a point of showing it clearly, it's a reference," explains Martin L Neuman, stylist, Manufacture Marocaine de Confections.
This edition also saw a number of B to B meetings between Moroccan manufacturers and American buyers, in the hope of increasing sale figures from the January edition of Premiere Vision New York, which totalled more than 3 million dirham.