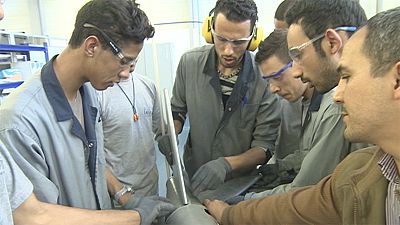 Morocco's aeronautics and aviation industry is taking off, with more than 100 European and American companies attracted to the country – according to government figures.
A recent trade show in Seattle was chance to further boost the sector, which has grown by 25 percent in recent years.
"This is a sector with a thriving business sector," Moulay Hafid El Alamy, Morocco's Minister of Industry, Trade, Investment and Digital Economy, told euronews.
"We cannot afford, as a country with a strong drive to industrialisation, to be absent from this sector. Investments follow in a very concrete way."
The Aerospace and Defence Supplier Summit in Seattle brings together hundreds of companies from dozens of countries.
It is a shop window for Morocco in this important global market.
"What Morocco has the most to give is quality skills, which allow the creation of centres of excellence," said Hamid Benbrahim EL Andaloussi, Chairman of the Moroccan Space and Aeronautical Industries Group (GIMAS).
"It is also in close proximity to important European bases. We are 48 hours away from Toulouse, which is the heart of aviation in Europe."
Providing skilled workers
The IMA aeronautics institute (Institut des Métiers de l'Aéronautique), next to Casablanca's international airport, equips aerospace companies with skills to meet manufacturing requirements.
More than 600 young people have been trained here and entered the labor market.
"For me, the IMA offers a unique experience. It allows a company, that wants to invest in Morocco, to choose types of workers, to ask the IMA to train them so that they are ready to be operational in a very short time, in the industry you want to develop here," said Philippe Hoste, General Manager of PRECIMETAL (Belgium).
The institute provides all kinds of staff for the aerospace sector, offering pre- and post-hire training and refresher courses.
"We set up this institute in partnership with the government, industry and the state, and we manage it on behalf of the state," said Hamid Benbrahim EL Andaloussi.
"Young people who come here, we choose on behalf of corporations. They spend six to eight months in training. It is a dual training system. "
Industry climber
MATIS Aerospace, in Casablanca, was originally founded in 2001 by Boeing, Labinal Power Systems and Royal Air Maroc.
They specialise in aeronautical cabling, the annual turnover is more than 60 million euros.
"MATIS Aerospace is expanding as part of a growth plan. This accompanies an increase in Boeing spending, which is creating 400 new jobs," said Abdelghani Errahmani President and General Manager of MATIS Aerospace.
"The MATIS Aerospace plant has been enlarged and now occupies 12, 800 square metres in the Nouasser technology area of Casablanca. "
And the company's success has been recognised. It scooped a silver award in Seattle for performance, including on-time deliveries and quality standards.