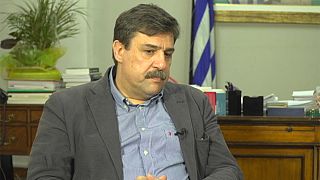 Greek Health Minister Andreas Ksanthos tells Euronews about his recent healthcare reform to provide cover to the 24% of Greeks unemployed, and discusses whether Greece can afford the change.
He is asked to respond to criticism that the reform will encourage employers to hire workers on the black market, as staff will no longer rely on employer contributions towards healthcare.
Finally he debates whether Greece should shift to a health system funded entirely by general taxation, rather than the current mixed system that is funded by a trio of general taxation, employer-employee contributions and out-of-pocket payments.
*(The video is in Greek language)