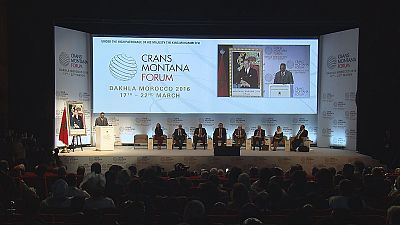 This year's Crans Montana Forum in Dakhla in Western Sahara continues the open and constructive dialogue between senior players in global politics, economics and aims to consolidate what's been achieved in 2015 ahead of COP 22 climate change talks in Marrakech in November.
With more than a thousand participants representing 131 countries, 27 regional and international organisation; the gathering is one of the biggest yet.
For the organisers of the event, this year's theme and the choice of the host city, Dakhla, was a calculated decision.
President of Crans Montana Forum, Pierre Emmanuel Quirin said:
"Choosing Dakhla was essential for us. It's a real laboratory for all of Africa. Organising such a high-powered gathering here in this town, in this region, between international economic and political influencers, is very symbolic. It demonstrates that nothing can prevent the force of political development."
While Morocco was keen to show Africa the path towards greater development, other sessions at the forum focused on several key topics including health, energy, youth unemployment, the environment and education.
"Morocco itself has a great history as a melting pot for very diverse civilisations from sub-Saharan to Maghreb Africa," explained Youssouf Ouedraogo, former prime minister of Burkina Faso. "The development of this region is therefore a key factor for the development of south-south cooperation."
The US civil rights leader, Jesse Jackson, was also drawn to the forum by its theme of "better governance for sustainable social and economic development."
He told euronews Southern Africa has a crucial role to play: "Africans trading with other African countries is a big deal; and agriculture is a growing industry in this country and for the world. Also even as the US becomes more isolationist, Africa must be on the trading list because Africa has surplus trade. It's the most resourceful continent in the whole world," said Jackson.
Women's rights and roles in African societies were subjects which took pride of place during debates in Dakhla.
Ntombenhle Msiza, the daughter of South Africa's President Jacob Zuma told euronews that women can't wait or rely on men to give them equal opportunities in any sector.
"It is time that women stood up. Women need to stop standing behind men or hiding behind men. We are strong, we are powerful, we have a voice and we have to contribute to this continent, it's our right. And we're going to do it by force if it means doing that." said Msiza.
Sentiments shared by Rula Ghani, wife of Afghanistan President Ashraf Ghani. She said women have an essential role to play in the management of public and private affairs in a modern society.
Rula Ghani said: "Little by little, we're realising that women are important, whether it's in the economy, society, education or health, in all domains. I think the 21st century will be the century where women start to have more weight in the world."
A worthy talking point for participants at the Crans Montana Forum who continued their debates on the high seas on a cruise ship bound for Casablanca after three-days in Dakhla