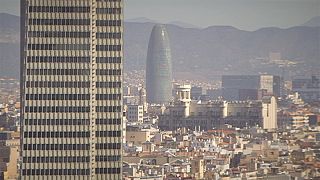 With almost seven out of 10 people in Europe living in towns and cities, this week Real Economy is exploring the economics of urban integration.
It's the biggest challenge that we have in history, the biggest amount of people being displaced... We already have vulnerable people. More than 120 million Europeans are at risk of poverty and of course we have now to integrate this new priority, which is the migration crisis
The facts
1 in 11 Europeans lives with less than the average citizen in their country
30 percent cannot afford unexpected expenses
More than 1 in 10 of us spend 40 percent of our income on housing
For some it means giving up basic needs, moving away from city centres where jobs are and not being able to come back to work. That means creating a benefits trap and sometimes a drop in GDP growth of an urban area.
Barcelona's affordable housing drive
Amongst the rooftops of Barcelona, Spain, there are around 10-thousand homes under market prices.
It means there is limited residential accommodation available for people in need of an affordable place to live.
Euronews' Monica Pinna reports: "One and a half percent of properties in Barcelona make up the social housing stock. This compares to 48 percent in Amsterdam, followed by Berlin, London and Paris."
A new left-wing led council in Barcelona – led by former housing activist Ada Colau – has brought in several measures to try and turn things around.
They include fining banks with empty houses on their books, acquiring new properties, restoring old ones and planning two-thousand new ones.
It has cost the council 29 million euros in eight months.
"The Government has already spent 12 million euros on financial support, to help people who can't afford to pay their rent. By doing this, the council avoids having to provide a social flat," explained Vanesa Valiño, Chief of Staff of Housing Department at Barcelona City Council.
Jorge Olaria Villar is among three-thousand families who have received council help. He was moved to a social housing flat with his son last December, having received support to apply for it.
"I lived in a basement for seven years, until I lost my job. One day they came with the eviction paper, three years after I stopped paying. Now I pay 20 percent of my income, 85 euros per month," said Jorge.
Jorge had help from an organisation called PAH, Platform for People Affected by Mortgage.
It has got a law approved which forces banks holding empty apartments to use them as emergency accommodation for people who have been evicted.
It also gives people facing eviction the right to "social rent."
LuchoMasan</a> gracias a <a href="https://twitter.com/hashtag/PAH?src=hash">#PAH</a> por la ayuda y las informaciones por nuestro <a href="https://twitter.com/hashtag/realeconomy?src=hash">#realeconomy</a> sobre <a href="https://twitter.com/hashtag/inclusi%C3%B3nsocial?src=hash">#inclusiónsocial</a> <a href="https://t.co/PSAuDp8CUP">pic.twitter.com/PSAuDp8CUP</a></p>&mdash; Monica Pinna (_MonicaPinna) March 11, 2016
"There are around 30 evictions a day in Barcelona. And there are 2,500 empty flats belonging to big organisations. We want those in the social housing stock," said Luis Manuel Sanmartín, a PAH activist.
Barcelona council has so far gained 455 properties in the city, through negotiating with banks.
Interview: Johanna Rolland, President of Eurocities
What works in Barcelona isn't always practical everywhere else and that is where a network like Eurocities comes in, bringing together the governments and mayors of 130 cities across Europe.
Euronews' Fanny Gauret went to catch up with Johanna Rolland. She is the mayor of Nantes and President of Eurocities.
Johanna_Rolland</a> <a href="https://twitter.com/hashtag/urbanagenda?src=hash">#urbanagenda</a> "To be efficient, EU policies have to be designed with cities" <a href="https://twitter.com/hashtag/realeconomy?src=hash">#realeconomy</a> <a href="https://twitter.com/euronews">euronewspic.twitter.com/TQhVOrueKM

— Fanny Gauret (@FannyGauret) March 17, 2016
Fanny Gauret, euronews: "What is the biggest challenge we face today, in our urban landscape?"
Johanna Rolland: "First, it is the question of housing. Tomorrow, in Europe and around the world, cities will concentrate the population.
"There are some difficulties, in terms of precariousness and the environment, but we also have solutions.
"To be efficient, European politics have to be designed with cities because they act as a lever.
"When there's support for a policy in terms of housing, it also supports the local economy and the local labour market."
euronews: "In terms of transport, what kind of solutions would you implement?"
Johanna Rolland: "That is the responsibility of our cities, of our big metropolises – to have a strategic view on social integration issues.
"When I look at Europe today, I see cities like ours where the heart and the popular districts are crossed by a network of transport, it creates a bond.
"When I look at other places, where you have the heart of the city, the ring road and popular districts further away, you can be active in terms of social politics for example.
"But if the physical distance and the feeling of division and segmentation is strong, it can still be an issue."
euronews: "Amongst all the cities you see as President of Eurocities, is there one that's a particularly good model?"
Johanna Rolland: "Our cities are diverse, they don't have the same history. They don't have the same course. I'm looking at what Amsterdam does in terms of digital transition challenges, but I also look at what Barcelona is doing, including on the cultural question.
"We also exchanged a lot with German cities recently, including on the difficult question of refugees.
"When we look at what a city like Vienna does in terms of affordable housing, yes you can see there are things we can share to be more efficient, to get solutions at a European level."
Integrating migrants into Europe
Added to the challenge of urban integration is the arrival of newcomers, whether they are legal migrants or asylum seekers which Europe is seeing the most of in decades. They are mostly coming from war torn countries like Syria, Afghanistan and Eritrea.
In the short term that is good for GDP because it bumps up domestic demand since governments have to spend on housing and healthcare for these newcomers. But in the medium to long term the impact on GDP is really determined by the speed of integration of these folks into a flexible labour market with the skills we need.
The Finnish response
Traditional ceremonies are not unusual in Vantaa, next to Helsinki.
It has the highest percentage of residents with a migrant background in the country.
Samira Chakir is one of the thirty-thousand or so immigrants here. She arrived from Morocco 19 years ago with a Law degree. She now has five children and works in a refugee centre.
"When I arrived in Finland I couldn't find a Finnish course. In 1997, for refugees, it was easy – but not for me," said Samira.
There is a multiculturalism programme in Vantaa which aims to get migrants into work through education and training.
The Hakunila International Society organises Finnish courses, for instance. Around three-thousand people benefited from support last year.
"The issues that are in question are various, from how to get a driving licence, to how to settle with the children custody issues, to how to get retirement benefits," explained Burhan Hamdon, Executive Director of the Hakunila International Organisation.
Suvi and Tiina, from the local employment agency and the municipality, go to the centre several times a week.
"I help people with finding jobs, applying for jobs, applying for different types of education as well," said Suvi Lindén.
Euronews' Monica Pinna reports: "Over 33.5 million people born outside the EU live in a member state. The number of first time asylum applicants went up by more than 150 percent in the third quarter of 2015. A social, political and economic challenge."
Finland had about 3,000 asylum seekers per year, but in 2015 this number rocketed to over 32,000.
"Last year 10 times more asylum seekers arrived to Finland," said Hannele Lautiola, Head of Multicultural Affairs for the City of Vantaa.
Anna Cantell-Forsbom, Family Service Director for the City of Vantaa, added: "We are counting about 40 percent of those asylum seekers would get the permission to stay."
"Of course we need much more services for the arrivals," responded Lautiola.
Europe has set up the Asylum, Migration and Integration Fund with a total of more than three billion euros – to promote efficiency around migrant flows and also to bring a common approach.
The UK comes out on top in terms of allocation, followed by Italy and France.
Interview: European Commissioner for Regional Policy
So how do cities grow and integrate when you put intrinsic and new pressures on them? Whether its legal immigration or asylum seekers. How does policy really translate to reality on the ground?
Real Economy spoke to Corina Cretu, European Commissioner for Regional Policy.
EU Urban agenda funds to go directly to cities to tackle integration & migration challenge #realeconomyeuronews</a> <a href="https://t.co/3UqLit9M1H">pic.twitter.com/3UqLit9M1H</a></p>&mdash; Maithreyi (maithreyi_s) March 17, 2016
Maithreyi Seetharaman, euronews: "We've talked about refugees and about integration. How do you make it reality on the ground without compromising on vulnerable native populations and what about the money?"
Corina Cretu: "It's the biggest challenge that we have in the history, the biggest amount of people being displaced and as you said, we already have vulnerable people – more than 120 million of Europeans are at the risk of poverty and of course we have now to integrate this new priority which is migration crisis.
"It's very important to let people know and cities know that we are now in the beginning of the new programming period. We have 450 billion euros from this policy, regional policy – which with the contribution of the member states will be 600 billion euros. With all this money we would like to tackle these issues of inequalities."
euronews: "The policy that trickles down from the European level to the city level – do you see, any response, positive or negative?"
Corina Cretu: "Regardless of this politics and arguing between member states, people who are on the ground, mayors of cities are the first ones who have to take quickly actions and measures to tackle this migration. For the first time where there is not any reluctance on this.
"It's for the first time that for the next seven years we will give funds directly to the cities – 16 billion euros will be managed directly by the cities in what are the biggest challenges – housing, tackle with vulnerable groups. We have many examples of cities which already deal with this in Germany for instance, in Netherlands.
"But other countries they really don't know what to do and we are here to help to give technical assistance."
euronews: "For 2016 – what is going to be key for cities to focus on?"
Corina Cretu: "Social integration will be from my point of view the most important words for the next years – and new start ups and also energy efficiency, housing, regeneration of deprived urban areas, creating jobs, investing in education, in health and all these are priorities for Regional Policy for the next seven years."
with the contribution of Damon Embling