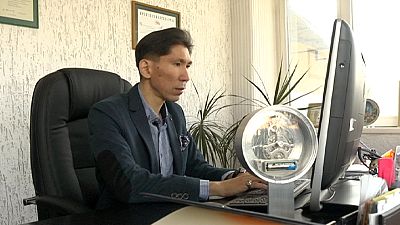 Kazakhstan's economy depends on oil and gas and the slump in the industry has put its economic resilience to the test.
Its currency has devalued and inflation peaked at more than 15 percent last month.
The government is trying to diversify the economy and encouraging small and medium businesses is a focus.
Amina Serzhova runs a small floristry business. The devaluation has hit her and banks are not lending money for her company to expand.
"If I don't have a loan, I'm not going to be able to develop my business by opening a shop," said Serzhova.
"I do understand that I have other issues, which I have to pay for. So we're not developing, we're not expanding our business."
Igor Ilyinskiy runs a small textile company, producing t-shirts and underwear.
He thinks the Eurasian Customs Union between Russia, Kazakhstan and Belarus has boosted business and that he does not need bank credit to expand.
"The situation has changed. As far as I can see, there's support coming from the city council as well as the central government, in order for my products to get access to a big supermarket," said Ilyinskiy.
But for those who do want credit in Kazakhstan, the problem is not a lack of demand. The difficulties lie in small entrepreneurs getting loans from a strictly national banking system.
"For a long time, there's not been an effective way to help businesses. Why? Because the government wanted to provide money, but there was not the channel," said Dosym Satpayev, Director of the Kazakhstan Risk Assessment Group.
"Yes, there was a banking infrastructure, but it's been separated from the real economy.
"Banks still prefer to make fast and easy money. They don't want to wait five or ten years to get returns."
Corruption can also hamper business in Kazakhstan. The government has been taking measures to crack down on civil servants, such as tax inspectors, who abuse their positions.
Leaders recognise that a lack of accountability scares away potential investors.
"Despite the numerous campaigns against corruption, some of those practices still remain. The quasi-state sector has grown up," said Daniyar Ashimbayev, a political analyst.
"There are many state-owned companies working in the market and, despite the privatisation, their role remains huge."
The government has changed some laws, administrative barriers and infrastructure for business – in a bid to diversify the economy.
"A unique programme has been created and the government has set up a centre to put it into practice, the Ministry of Industry and New Technologies," said Ashimbayev.
In rural areas, where there is less development, there is a drive to invest in agriculture and eco-tourism.
Yerdos Sadu produces wheat and vegetables and says he has never faced corruption.
"I haven't experienced it at my level yet. I'm a typical, ordinary farmer," said Sadu.
"I have opted for an alternative approach and tried to get a public reputation and get the support of the Ministry of Agriculture.
"They try to support us. So I can't say I've experienced corruption here."
There is still poverty in Kazakhstan, but it is seen as reducing faster than in other post-Soviet countries.
But the feeling is that Kazakhstan now has to embrace the challenges of diversifying its economy, as it sets its sights on future development.