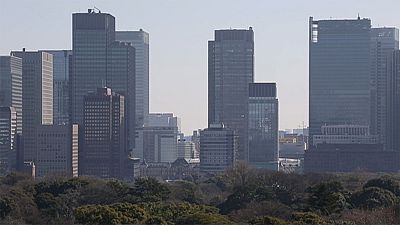 Welcome to this new episode of our Target Japan Special on Tokyo's financial heart: Marunouchi and its two neighboring districts of Otemachi and Yurakucho.
It can be complicated to find partners here. That's why we build networks and ties between businesses
To better understand how foreign businesses work here, we met Jan Dusek, business development manager at shecco Japan, which promotes the use of natural refrigerants. We spoke to Jan as he was gearing up for a big convention on the topic bringing together the leaders of the sector. He naturally chose to have the conference in Marunouchi.
"It s a very recognised brand in Tokyo, and in Japan. If you say Marunouchi anywhere, everybody knows. It helps establish your credibility," he said.
The event was very important to Jan — he worked on it for eight months. Two hundred people showed up, and the feedback from the attendees was very positive.
"There are clients from Japan, but also Europe, the US and Asia. All gathered in the same place. It's a great opportunity to display our products — that's why we're here," said Yasuyuki Tsuchiya, Managing Director for Panasonic.
When his company settled in Marunouchi three years ago, Jan joined a business club run by the district's developers. It features highly functional workspaces, organizes events and has about 500 members. Target spoke to the man behind these steps taken to help both Japanese and foreign companies settle here in the best conditions.
"It can be complicated to find partners here. That's why we build networks and ties between businesses," said Naoto Aiba, President of the Council for Area Development and Management of Otemachi, Marunouchi and Yurakucho.
Marunouchi is home to some 4,000 companies. Each year, 92 of them alone account for 10 percent of Japan's GDP. It's no surprise the district draws businesses and entrepreneurs like magnets — more than any other neighborhood in Tokyo. In fact, its development strategy doesn't focus only on big companies. Businesses of all shapes and sizes are welcome.
"We're bringing in fresh blood, and taking in startups, which can actually help create synergies with big companies," Aiba said.
Marunouchi and its neighboring districts of Otemachi and Yurakucho continue to grow. With a common and steady target: to attract entrepreneurs from all around the world.