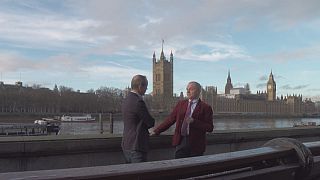 Cooperating for better health
We really should be providing health and care services that informed patients want, rather than health and care services that we feel they should have
Cardiff in the UK is a good place to examine one of the key new trends in healthcare – what is known as shared decision making, or the process of doctors and patients working together for the best outcomes.
It sounds great in theory, but how do you make it work in practice?
A trial study in the city tested a shared decision making tool to improve dialogue between doctors and people on sick leave.
General Practitioner Dr Ceri Walby took part, and says the questionnaire-style format revealed new things about the patient that she may never have been aware of.
"Initial thoughts were that we're not very keen on using tools, it's a lot of paperwork, it bogs you down', but we agreed to trial it. And actually we were quite surprised by the interaction we had using it."
"Sometimes it would be something as simple as a patient not feeling they could do any lifting, or carrying, so we could write a note saying 'for the next month, please could they be excused from lifting or carrying things'," she says.
It might sound simple, but in fact it is rare for family doctors to have that level of insight into why a person has not returned to work, and what could help them to return.
Professor of Occupational Health at Cardiff University Dr.Debbie Cohen led the trial, and stresses how the choice of questions a doctor asks can really improve their understanding of the patient.
"The two most important questions for doctors to ask when talking to their patients about returning to work is how important is it for them to go back to work, and how confident are they that they are going to be able to achieve that."
"They might be very confident they could go back to work, but actually it's really not important for them. The questions you'll ask them are going to be very different than if they say 'Yeah, it's really, really important for me to go back to work, but do you know what? I can't step outside of my door, I don't have the confidence to go outside my door.' "
Making the numbers add up
The UK government says it wants to involve patients more in decisions about their care.
But doing so is a challenge in a health system that deals with a million people every 36 hours, and in a country in which 15 million people have a long-term health condition. However, sheer volume is not the only issue.
Spending on healthcare is under pressure in England*, just as it is in many other European countries. So how do you apply the concepts of shared decision making in such a tight budgetary context? Euronews put that question to a leading expert from the country's national health service.
Alf Collins is a former family doctor with a special interest in shared decision making. He is National Policy Advisor in Person-Centred Care for the NHS in England.
Better care, better economics
"Why would we not want to do this? Why would we not want to involve people and support people in making decisions about their health and care? It's the right thing to do," Collins says.
"In terms of the financial climate that we're in there's some evidence that people who indeed do share decisions about their health care tend to opt for less invasive, less expensive procedures. Lower risk procedures. "
"I think the strongest argument however in terms of the financial case is that we really should be providing health and care services that informed patients want, rather than health and care services that we feel they should have. So that's where we should be spending our money."
Back in Cardiff and it is clear that a shift is underway at the frontline of care, as the tone and content of dialogue between patient and doctor evolves.
"Whereas perhaps in the past we were very dictatorial, we would say 'Right, this is the treatment, this is your choice'. Most decisions now, even going down to 'Do you want painkillers or no painkillers?' is involved in shared decision making with the patient," says Dr. Walby.
A further trial by Cardiff University of shared decision making in the field of occupational health is now underway.
*The National Health Service in the United Kingdom has separate administrations in England, Wales, Scotland and Northern Ireland. The devolution laws in the UK mean health is managed and financed differently in each country, although the experience for patients is much the same.