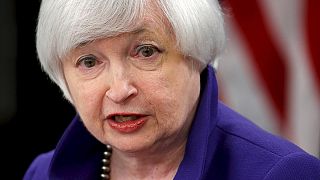 The Fed finally got fed up with low interest rates.
As expected, the US Federal Reserve has decided to raise interest rates for the first time in almost a decade. They have been at near zero levels since before the financial crisis began.
In this programme we take a close look at the world's biggest economy and its path though the crisis.
The US central bank's statutory objectives for its monetary policy are maximum employment and price stability.
In 2008 the Federal Reserve had to act outside the box amid the crisis, spreading around the world. Its ultimate goal was to support the economy.
And the Fed responded by aggressively implementing a number of programmes.
We bring you the timeline of the Fed's unconventional monetary policy options and their results.
Plus, our IT-dedicated segment is focused on the eternal struggle between Apple and Samsung.
First, we give you the latest update on the US patent lawsuit that became the symbol of the smartphone wars.
Then, we look at how Apple is trying to reduce its reliance on suppliers like Samsung by opening a "secret lab" in Taiwan.