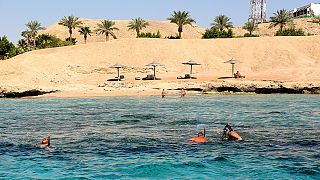 The Sinai plane crash shattered Egypt's tourism dream.
The country has been doing its best to lure back visitors after the Arab Spring revolution of 2011 and its efforts started paying off before an airliner taking Russian tourists home broke up over the Sinai Peninsula.
In this edition of Business Line we look at the tourism industry that was meant to be a pillar of Egypt's economy. We speak to Euronews' correspondent in Egypt Mohammed Shaikhibrahim to answer the question as to whether the country's economy can overcome this blow.
Our IT-focused section delves into the life of Hollywood legend Hedy Lamarr.
What does this beautiful and scandalous actress from the 1940s have to do with WiFi and Bluetooth? And why did Google decide to celebrate her life with a dedicated doodle?
Glamour and technology, beauty and intelligence, Nazi submarines and wireless communications… No, this isn't a movie script. This is a true story.