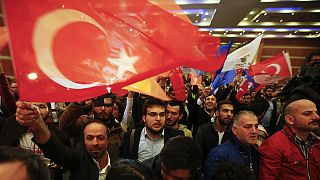 Turkey's ruling AK party grabbed a surprisingly robust victory in the weekend's snap elections. The result has been seen first of all as a triumph for the country's president Recep Tayyip Erdoğan.
In this edition of Business Line we look at the markets' reaction to the elections outcome and dig through the official economic data with our correspondent in Istanbul Bora Bayraktar to find out what are the main concerns and problems for people there.
Speaking of the Turkish elections, we didn't miss an interesting detail: the way some people found out the results. Turkish president Recep Tayyip Erdoğan posted a tweet congratulating Prime Minister Davutoğlu for the victory.
Didn't Erdogan hate Twitter and even try to ban it after it was used to mobilise protests against Ankara's rule? He did, as we will see in our IT-dedicated segment. But apparently he had a change of heart…