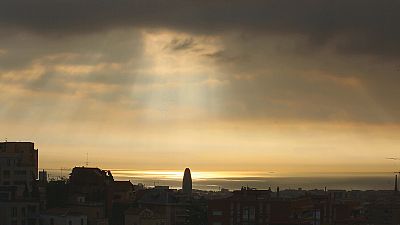 In this episode of Business Planet, our reporter Anne Glémarec went to Barcelona, Spain, to see how some small and medium-sized enterprises (SMEs) can boost their competitiveness by better protecting their innovations.
Few SMEs bother to protect their intellectual property, when doing so could really help boost business, EU figures show.
"A recent study shows that only 9% of European SMEs own intellectual property rights. Those companies that do own intellectual property rights have over 32% more revenue per employee than the companies that don't," said Jakub Ramocki of the EU's Intellectual Property Rights (IPR) Helpdesk.
NEOS Surgery, a 13-employee SME based in Barcelona, currently sells just one type of product: a non-metallic cranial fixation device used by neurosurgeons to suture patients' skulls. The company is about to launch a new device, this time to stitch intracranial aneurisms, but that product is still top secret. NEOS Surgery developed the device with EU funding and German partners, and it contacted the IPR helpdesk to lay out the terms of their collaboration.
Intellectual property intensive industries generate more than 39% of EU

GDP

and provide more than 26% jobs in Europe.
Only 9% of EU

SME

s use intellectual property.

SME

s that use intellectual property have on average 32% higher revenue per employee than enterprises that don't use it.
Knowing how to professionally manage Intellectual Property (IP) and Intellectual Property Rights (

IPR

) is a way to use innovation and become more competitive.
The European

IPR

Helpdesk provides support for

SME

s on

IPR

issues in EU funded projects and in transnational commercial cooperation. The projects focus on training, awareness-raising and advice on registration, use and management of intellectual property.
Neos Surgery is an innovative and technology-based Spanish

SME

developing specific surgical products. The

IPR

management support received from the

IPR

Heldesk will enable the company commercialise the results of their project.
Useful links
"The IPR Helpdesk helped us redraft a consortium agreement we had with two German partners, and they helped us create an intellectual property framework in which everyone's rights and interests were protected," said Montse Charles-Harris Ferrer, Operations Director at NEOS Surgery.
The company secured exclusive IP rights on medical applications for the new aneurism device, which will be patented to prevent others from copying it. And if it were to be copied, NEOS Surgery would be able to consult the IPR Helpdesk on the legal action it can take, in the EU and beyond.
"The European Commission launched three further IPR helpdesks: one in China, one in the region of South-East Asia and one in Latin America. Their experts advise EU SMEs on how to protect, how to enforce and how to manage their IP assets in those regions," Jakub Ramocki said.
EU funded research projects and SMEs with cross-border business relations can all seek the IPR helpdesk's advice.
"In order to receive our free of charge and confidential advice, all you need to do is to call us or send us an email. And we'll get back to you within three working days," said Ramocki.
For more information: