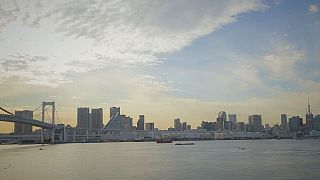 The mega-city of Tokyo — 37 million residents, an output (GDP) that compares to Mexico's. The Japanese capital, which will host the 2020 Olympic Games, is clear about its new economic ambitions. Tokyo wants to overtake New York, London, Hong Kong and Singapore to become the world's top financial center.
We were offered two months' free rent, a huge flexibility in our office arrangement
These past few years, a dozen special economic zones have been created across Tokyo, including in the neighborhood of Toranomon, with the aim to create ecosystems for international business, with every asset to attract foreign investors and firms and to encourage interactions with Japanese companies.
It's in one of these special zones, Shinjuku, that the South African firm Aspen, the world's fifth largest maker of generic drugs, recently set up its R&D center. Japan is the world's second biggest health care market after the United States, and this Tokyo neighborhood was particularly attractive, says Philippe Auvaro, president of Aspen Japan: "We were offered two months' free rent, a huge flexibility in terms of our office arrangement… We built small clusters, which the Japanese call "Shimas"… All the cabling work had already been sorted. So in the end this was all very favourable to our installation costs."
Incentives for companies
There are other advantages for the companies that settle in these special zones: a lower corporate tax, free consulting in English, subsidies for their move and their recruitment, and a one-stop system to speed up administrative procedures.
"Before, it took three weeks to set up a business here in Tokyo," says Governor of Tokyo Yoichi Masuzoe. "But with this one-stop system, you can now do that in eight days. And hopefully soon it will just take 5 days. That's my ambition!"
The sectors thriving in Tokyo are health care, as well as activities tied to the environment and information technology. The head of LinguaNext, an Indian firm that provides multilingual software solutions, says he chose Japan for its outstanding customer service and its economic context: "Increasingly now Japan is becoming globalized, in the sense that they are more open to purchasing products and services from overseas companies. And so this, I think is a great opportunity to non-Japanese companies to bring things into Japan that they are missing locally," says CEO David Crouch.
Many urban projects are underway in the capital, notably in the financial district of Nihombashi. Tokyo now ranks as one of the world's safest and least polluted cities, thanks to a crackdown on diesel emissions and efforts to unclog the city's roads.
"In Tokyo, there are no traffic jams, it's wonderful. Berlin, Rome or Paris: we've never seen a city of this scale without traffic jams," says Governor Masuzoe.
Tokyo is embracing foreign business, and so is Japan, which is expected to reach a free trade agreement with the EU very soon.