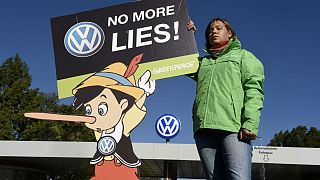 Several years after the global financial crisis Europe's banks are still trying to get back on track.
Struggling to revive their fortunes and provide attractive returns for the investors, the region's lenders also have to cope with tougher regulations and massive fines.
Their aim is to regain trust. And it seems to be a million dollar question for any business whether it's a bank, a carmaker or an online retailer.
In this edition of Business Line we focus on the trust issue to see who we do and don't trust.
It's a problem often encountered on the Internet too. When you buy something online, how much do you trust peer-generated product reviews?
What if they're just bogus comments written by freelancers who haven't even bought the product?
In our IT-dedicated segment we'll see why US e-commerce giant Amazon decided to unleash its deadliest weapon: lawyers.