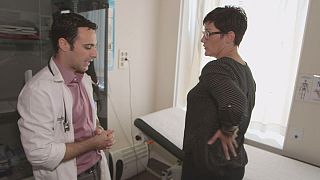 Millions of people suffer from pain in their joints and muscles during their working lives, and sometimes that pain can become unbearable.
Esperanza Bas , from Alicante in Spain, is one of them. She was recently signed off work for recurrent back problems, and is now taking part in a project to help people find a sustainable solution to their health problems and return to work more quickly.
"It goes back at least 15 years, when I started working. I've always worked in the food business, I'm a butcher. So my work always brought risk, lifting loads all the time, always the same posture," she explains.
"This is a serious problem, because when you have a muscle contraction, or a slipped disk or whatever, you are completely wiped out by it."
Esperanza is not alone in having these kinds of problems with joints, muscles, nerves and tendons.
Looking at Europe as a whole, figures suggest muskuloskeletal disorders (MSDs), account for 27% of years lived with disability. The cost to the economy of workers with MSDs is estimated at 240 billion euros per year.
However it has been found that that burden could be reduced if people with problems like back pain or tendinitis get the right care early.
Rheumatologist Dr José Antonio Bernal heads a project at Alicante Hospital offering patients specialist advice as soon as they are signed off on sick leave.
"The work inspection agency sends us the list with all the cases of people signed off with musculoskeletal problems from the previous week. Then I filter the list and search for those that are really musculoskeletal problems. Then we call the patients that could benefit from an intervention from our side and if they agree we arrange the consultation."
Some of initial research into the subject was carried out in Madrid by Dr Juan Jover, Head of Rheumatology at the city's Clinico San Carlos hospital. He is one of the pioneers of the project.
"The 'early' part of the concept is really important," he tells euronews. "We have seen that if a worker on sick leave is dealt with in the first week, the results are much better than if we had waited, for example, for two weeks."
So if it is so straightforward, why isn't early intervention in MSDs widespread practice?
"The problem is that the issue of disability from work involves a lot of people. It involves the health system; the employers, the workers and the social security system too. So in a way, you have to be in contact with lots of actors, who do actually interact in the real world, but who do not work in a coordinated way. They operate in isolation," he explains.
"Sick leave, when someone can't do their work, is a really serious problem because if you don't intervene quickly then some of those people can develop permanent disability, and never return to work in their lives," says Dr Jover.
Back in Alicante, and during Dr Bernal's half-hour consultation, he offers advice on the right posture for work and rest, and helps Esperanza understand how she can help herself to avoid experiencing back pain again.
"I have thought about it a lot and I am going to change that in my life, in fact I am changing it already, I'm doing a Pilates class, swimming and most of all I am working to strengthen my back so I don't have to go back through that pain," she smiles.
After a few weeks off, Esperanza has now gone back to work. Alicante hospital is continuing with its project of early intervention.