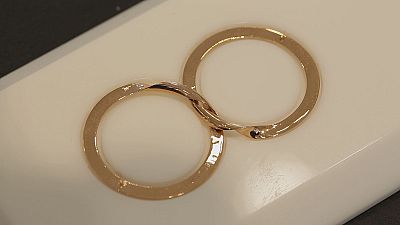 Boosting innovation and competitiveness through unprecedented transeuropean parternerships is the business of the Worth Project. Business Planet went to the French Fashion Institute to learn more about how it can benefit entrepreneurs. The project creates partnerships between SMEs and the worlds of fashion, design and technology.
"It creates incredible added benefits, particularly as these people wouldn't normally be connected," said Danièle Clutier, Worth Project Coordinator. "They have different professions, they come from different countries and their creative fields are completely different. We have a total of 82 companies and designers from 12 different European countries in the programme."
In his prestigious concept shop designer Samuel Gassmann sells exclusive creations: a double wedding ring. The product was finalised within one month – an impressive achievement as this design, which dates back to the Renaissance, is very complex.
To establish a viable production process, Samuel went into partnership with an Italian company that uses ultra-sophisticated 3D printers. They enabled him to create a prototype in rose gold.
"They (the Italian company) have tools that are state-of-the-art technology. I, as a small-scale craftsman normally wouldn't have access to them," he said. "The Worth project opened this door for me. It opens doors to create other new products – and why not – a new way of thinking and creating."
Through the Worth project Samuel also received 10,000 euros in financial support and extensive coaching on marketing strategy, packaging and even on the protection of intellectual property.
It was, in effect, a new start. Samuel is now planning on recruiting a new partner and hopes to go beyond the prototype stage and produce his rings on a 3D printer for the market. He has lots of other creative projects in mind.
"Today, we have one object; a wedding ring," he said. "Tomorrow, it will have a new look. It will become another kind of ring . And little by little… I have four new ideas… designs planned for next January, three others that will follow next year, and a new collection. "
Danièle Clutier's advice to entrepreneurs like Samuel is: "continue to take time to innovate. There are studies showing that innovative employers spend 20% of their time looking for new ideas."
It has been a unique opportunity for Samuel. The Worth Project is financed by the European Union and led by the Italian organisation of creative SMEs, the London College of Fashion and The French Fashion Institute.
"I would say the key to success is to be prepared to take risks to innovate, to go into unchartered waters. Have confidence," said Clutier.