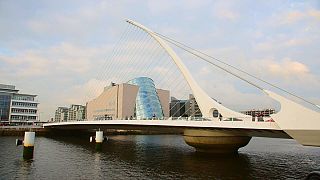 The Enterprise Europe Network is described as the world's biggest support network for SMEs. The network is made up of 600 support organisations across 50 countries, covering the EU and all global markets.
Business Planet travelled to Dublin to meet one small company that has benefited from the EEN. In the Irish capital's hi-tech hub, known as 'Silicon Docks.' we met Mary Leane, who set up her SME in 2011. Her product is unique – a mobile video system that allows the user to ensure hand hygiene in hospitals. It's an innovation meeting market needs and addressing a real public health issue.
"One in 20 people who go to a hospital will acquire an infection while they are in there because staff or visitors have not washed their hands using the correct technique," Mary told us
"And that's where Surewash comes into play, because, we train people – staff and visitors and patients alike – in the technique."
Today, the system is used in hospitals worldwide, but its debut was in France and Germany, thanks to an event organized by the Enterprise Europe Network, during which Mary was able to initiate partnerships with local distributors.
"It was a major step forward for us," said Mary. "They (the company's partners) represented 40% of our income the year they came on board. As our product is so unique we needed people with relationships with the hospitals, who could explain us to their customers."
In recent months, Mary and her team have pushed ahead with their international expansion, including into US and Middle East markets.
Launched with just three people, the company now has 10 employees and has also created jobs among subcontractors involved in manufacturing the device.
Jan Gerritsen, the EU Programme Manager of the Enterprise Europe Network, said companies like Mary's have plenty of scope for growth: "if Surewash wants to open up other new markets, we would recommend they profile their product on the Network's database, which holds anything up to 10,000 live business and technology opportunities.
Among its assets, the Network has both international expertise and a thorough knowledge of local markets. Each year it brings entrepreneurs together at partnership events and trade missions.
"Come and see your local Enterprise Europe Network advisor," said Gerritsen. "There are over 4,000 advisors in Europe. We will help you to grow your business fast, and in a secure and cost effective way. Most of our services are free of charge."