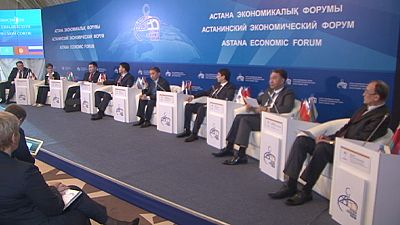 The city of Astana is the place where the Eurasian Economic Union was born last year. This year around ten thousand politicians, economists and experts from around the world gathered in Kazakhstan's capital to discuss the state and the prospects of Eurasian integration.
A key topic at the Astana Economic Forum was what did the countries gain and lose by joining the EEU. This week Kyrgyzstan became the latest Central Asian country to join the bloc. It was a difficult decision as many Kyrgyz people make a living re-selling cheap Chinese merchandise, and now customs duties will rise significantly, but there are other ways of making up the shortfall.
"This style of buying and selling is becoming a thing of the past, now it's time for (some real) industrial integration. The advantages of EEU membership for our citizens who work abroad is that they will immediately get the official status, which means that they will not need a work permit. The second advantage is that there'll be an integration and cooperation between enterprises in mining industry, energy sector etc," explained Zhirgalbek Sagynbaev, President of the Industrialists and Entrepreneurs Union, Kyrgyz Republic.
The new economic alliance has a combined population of 180 million and a total GDP of almost four trillion euros. It has the potential to attract foreign investors. However, it appears too early to assess the volume of new investments.
"The creation of a single market and the free movement of goods has already been provided. When can the results be assessed? In one year's time, not earlier. Six months is not enough to notice significant growth in investment flow or in trade volume. Especially considering the fact that the creation of the Eurasian Economic Union coincided with a tough crisis," remarked Timur Suleimenov, Minister of EEC Economy and Financial Policy.
The EEU's launch coincided with tough economic times in Russia. Western sanctions imposed on Moscow over Russia's annexation of Ukraine's Crimea region, had a negative impact on member-states' economies. Russia and Kazakhstan's revenue is heavily dependent on oil, so the slump in prices slowed down Kazakhstan's growth. Also, the rapid devaluation of the ruble meant Russian goods decreased in value and began to squeeze out the goods produced in other Union countries, particularly in Kazakhstan.
"A lot of Kazakh producers can not compete because of the devaluation. We have asked our government to consider this situation as a threat to the national economic security, as a force majeure, without any politicisation, and to impose temporary trade restrictions," explained Rakhim Oshakbayev, Deputy Chairman of the National Chamber of Entrepreneurs of Kazakhstan.
Despite the difficulties of the EEU's first year and uncertain prospects of Eurasian integration, the World Bank forecasts that all the members will increase their GDP this year. And officials are leaving the doors open for Tajikistan to join the bloc.