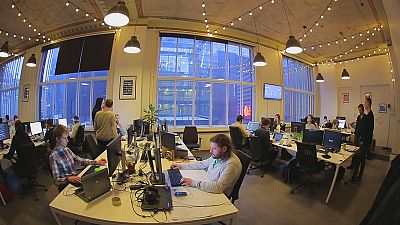 There's a digital revolution sweeping through European business and nowhere has it taken hold more strongly than in Riga. A lot of SMEs that innovate in this field can be found in the Latvian capital, offering their know-how to clients around the world.
Infogr.am is a perfect example. It's a simple but effective idea: allow users to create infographics from their own data. The basic service is free, while professional clients can pay for extra options. Infogr.am was set up three years ago by three people. Now it has 35 staff from 12 nationalities in Riga and an office in San Francisco with two people and it has just bought a website in Brazil.
"We were the first in the world to introduce do it yourself infographics data," says Uldis Leiterts, co-founder of Infogr.am "Currently, we have two million customers worldwide. And we see the market potential for us in the next 10 years at about 100 million customers."
The young company continues to expand internationally by developing new languages on its platform. It has raised the necessary funds to launch; it secured 1.5 million euros from two venture capital funds, one British, one German.
Leiterts says the investors brought a lot more than money: "more importantly than raising money from investors was the connections and knowledge they brought to the board. These connections helped us hire our executive team from people that used to work at Google and other international companies."
So, how best to approach this digital revolution as an entrepreneur? What are the keys to success in the field of digital?
The digital revolution is one of the great challenges for European SMEs, especially as the potential of the sector in Europe amounts to tens of billions of euros in added growth. Companies need to make the most of their opportunities, says Reinis Zitmanis, an EU-backed Digital Champion of Latvia: "(It must be)a market big enough, but focused. Something very specific, some value and a good user interface. And third component is something new, something that was not available before. If these three components are together, the European and the worldwide market is open!"
If you are creating a company with a purely digital activity, or if you are transforming your traditional business to digital, Zitmanis says there are basic rules to follow in setting up in this field: "The first thing to notice is that the management may not be as vertical as it used to be. It's more like team work, and you have to listen to the people (the employees) and keep your mind open.Then, you have to invite people with digital skills and digital ideas to your team. And you have to listen for (to) your customers."
For Uldis Leiterts the key to success in this sector is: "to think global – you can start and run a global company from just about anywhere in Europe."