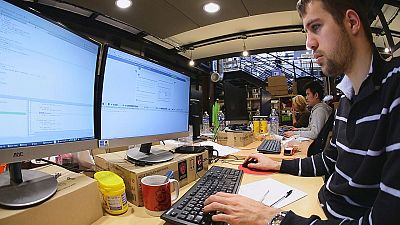 The digital economy has enormous potential in Europe as the stunning success of French start-up Yoopies shows. It is Europe's leading social platform for child-minding services.
Launched in France in 2012, Yoopies is now available in 7 languages and 9 countries. Users can look for a babysitter based on 50 criteria including, location, profile, and rating.
Like many successful businesses it sprouted from humble beginnings, according to founder and CEO Benjamin Suchar: "We went from traditional word-of-mouth, where you call your friends looking for a babysitter, to 'word-of-mouth 2.0', using digital tools and networks."
Recently, its activities have been diversified into all kinds of services, including shopping delivery and housekeeping. The goal is to become a market leader in Europe – a turnover increase of 300% year-on-year isn't a bad start.
"We've gone from 3 to 15 people, from 10 babysitters to 400,000 registered, from Paris to France to Europe. In three years, we've mushroomed. And all this thanks to what? Just a computer," says Suchar.
To find out more about the potential of the digital sector, Business Planet went to '42', a unique school created by the top French entrepreneur in the digital field, Xavier Niel. Every year, it trains 900 young people in digital skills, free of charge and regardless of qualifications."
At '42' we meet Gilles Babinet, another leading light in this field. He is one of the EU's 28 'European digital champions', whose mission, among other things, is to help SMEs face the digital revolution.
"You obviously start with your smart phone," said Babinet. "But beyond that, you can go on the internet and do short courses, little tutorials that explain how this or that system works, to get you up to speed with this revolution."
Digital is, above all, a sound idea – both on the web and traditional markets. It is also attractive to investors. Yoopie, for example, raised 200,000 euros through business angels and has just received another injection of funds.
"There's a kind of standard format approach with which you have to be precise," said Babinet. "You have to know how to present your idea succinctly, following certain basic rules, to get the green light and access to the money."
So what are the keys to success in the digital sector? We asked Yoopie founder Benjamin Suchard:
"For me the key to success is to share ideas. The people you talk to are your future suppliers, partners, staff, customers. In digital, things are constantly evolving. Share your ideas!"