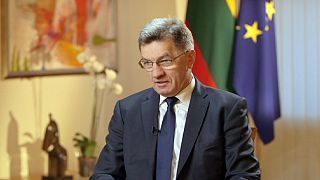 The Real Economy team has been to Lithuania, to analyse the economic consequences for the last Baltic country to join the euro in January 2015.
It will abolish credit risk, it will decrease interest rates. That means we'll have a chance for better development
Euronews spoke to the Lithuanian Prime Minister about opportunities lost in the past and gained now with the euro. The country's central bank governor also answered questions about monetary policy, and we travelled to neighbouring Poland to look at the differences in attitudes towards the monetary union.
After some serious economic pain, Lithuania's economy has been growing since 2011 and GDP is forecast to expand even further. Inflation is now under control, employment is improving and public debt is low.
Lithuania is the southernmost Baltic country and the most populous too. During the 14th century the Grand Duchy of Lithuania was the largest country in Europe, made up of present-day Lithuania, Belarus, Ukraine, and parts of Poland and Russia.
In 1990 it became the first Soviet Republic to declare independence, becoming an EU member in 2004 and also a member of NATO.
Bordered by Poland, Latvia, Belarus and Kaliningrad Oblast, 84% of people are ethnic Lithuanians. Poles make up 6% & Russians 5%.
Lithuanians first started using the litas in 1922, reintroducing it in 1993 as the country phased out the rouble.
From 1994 the litas was pegged to the dollar and in 2002 it moved to a euro peg. But due to high inflation and the economic crisis, Lithuania was denied entry into the eurozone in 2007.
But having checked the "convergence criteria" boxes, Lithuania will adopt the euro on January 1, 2015.
Inflation is always a concern in a currency transition but dual pricing, according to official standards, can let people know whether businesses are playing fair.
Also of concern is one-off costs and interest rates, which should head lower after the euro adoption.
Employment in the medium term is expected to improve due to the transition, but in the long term only by structural reform.
For the first 15 days of the year the euro will circulate together with the old litas. Banks and post offices have been provided with the new currency and retailers and ordinary citizens have already been able to obtain packages of the new coins.
Many retailers have signed a memorandum promising not to use the adoption of the euro as a pretext for increasing prices. In addition to the usual monitoring of prices of 40 basic goods and services, the government added 100 other goods and services that will be checked until next August.
Lithuanians say they are ready for the challenge of the new currency.
Bartender Jokubas Skinderskis told Real Economy: "I think a single currency is much better than this crossover between the different currencies and the nuisance of that."
Shop assistant Kotrina Kurklietyte-Kapkane said: "I think it opens up a lot more opportunities. I think it will be excellent."
Artist and shop owner Anna D. Mangirdiene said: "Price increases are normal, because all businesses suffer additional costs with the arrival of the euro."
Shop owner Jelena Kabiniene said: "I partly agree with the concerns about our independence. Because the litas was our money, closer to our heart".
Vitas Vasiliauskas, the Chairman of the Bank of Lithuania, told Real Economy: "We have the experience from Latvia. In Latvia the price increase connected to or related to the euro was, I'd say, 0.1%. So something like that we can expect in Lithuania, having in mind that increases in income will be maybe about 4 – 5 per cent."
The loss of monetary sovereignty is another sensitive issue for the public.
Vasiliauskas said: "(We've had) a fixed-rate regime to the euro since 2002. That means we don't have any 'independent' – let's say – monetary policy."
So what are the reasons for the adoption of the euro that could convince even the most skeptical?
Vasiliauskas said: "It will abolish credit risk, it will decrease interest rates. That means that we'll have a chance for better development."
Real Economy's Maithreyi Seetharaman spoke to Lithuania's Prime Minister, Algirdas Butkevičius.
"What's changed in Lithuania with this euro entry," she asked. "Because in the past you've seen capital outflows, inflation being a concern. Has strategy really changed going in to the future so it never happens again?"
Butkevičius responded: "After the economic crises that we went through in 2009-2012 very clear measures were adopted on how to control the financial market, how to reduce the fiscal deficit. We reformed the energy sector, aiming to reduce the prices of energy resources."
"Do you think you are a little too dependent on monetary policies?" asked Seetharaman.
"Certainly," said Butkevičius. "First of all, not only the monetary policy. One very important issue for us during the economically hard times was that a lot of young people left Lithuania. It was massive emigration."
Seetharaman raised the question of wages and labour reforms to attract emigrants back to Lithuania. "Among the European Union states the wages in Lithuania were practically the lowest. They have now started to increase, by approximately 4-5 per cent. But I'm afraid that labour productivity lags a little behind."
"Is there a question here about an aging population that cant work?" asked Seetharaman. "Are we going to see the benefit system within Lithuania change then?"
"Yes, you have touched actually on a very important issue for us, which is the demographic situation in Lithuania," said Butkevičius.
"We see that trends are such that with every year we have more and more elderly people who need to be paid retirement pensions and who have more difficulties getting into the labour market where high skills are required. This question occupies a very important place in our plans looking forward to the perspectives and implementing various structural reforms."
Across the border, Poland is one of Eastern Europe's strongest performing economies, but it is still contemplating whether joining the euro is in its best interests.
Euronews caught up with Monika Zochowska, a woman who runs an award-winning cosmetics start-up in Warsaw. Her firm, Phenicoptere, exports to Europe and beyond.
As debate rages in Poland over whether or not to join the eurozone, Monika says that – for now at least – 'out' is better than 'in'.
"For the moment we see more advantages of keeping the Polish zloty, keeping production in Polish zloty, and selling in euros," she explained.
"Now we have a lower cost of labour, but when we enter into (the) eurozone wages will go up. We will already (by then) be a more developed company, so it will not be that big a problem. But for the companies that are just start(ing), it will be a huge difference."
Surveys suggest that two thirds of Poles are against the euro.
A major reason for this is that the economy has been growing fast without it. Poland was the only EU member state to avoid an economic downturn after the global financial crisis.
But the country has its own challenges. Its GDP is less than a third of the eurozone average and its inflation rate is below zero.
The World Bank believes that when Poland does finally join the eurozone the benefits will far outweigh the drawbacks.
Senior World Bank economist Marcin Piatkowski told Real Economy: "It (adoption of the euro) can help Poland because it will increase investment, it will increase economic stability and it will increase technology absorption."
Poland has already signed up to join the euro when it is ready. But many Poles want to see a full eurozone recovery first, and Poland has a way to go too.
"Poland needs to do its homework before its ready for the eurozone," said Piatkowski. "It needs to be fully flexible and competitive, because these are the lessons of the crisis."
Beyond economics, analysts believe that geopolitics – specifically the conflict in neighbouring Ukraine – will push Poland closer to Brussels.
Warsaw says it is facing its biggest security crisis since the Cold War.
Euronews' Maithreyi Seetharaman raised the issue of Poland with the Lithuanian Prime Minister. "What's the big thing for Lithuania now with the euro when it comes to security, economics?" she asked.
"Certainly, it was a very big challenge when we had to take a decision concerning the euro introduction at the beginning of 2013," said Butkevičius. "It is very important for us that all the Baltic States have the common currency, the euro. And it is also very important as the borrowing costs are calculated in the national budget expenses. Borrowing with lower interest rates lowers the borrowing services expenses."
"Do you need a strategy change when it comes to your economic relations with Russia?" asked Seetharaman.
Butkevičius replied: "If we talk about economic development, the future and economic relations with Russia, I want to say that we are now working very intensively with the Western European markets, looking for relations in other countries and signing new contracts. Exports to Russia represented 20 per cent before the sanctions. Many in the business community have understood that the Russian market became pretty risky."
Seetharaman asked: "If the Russians react, what is your strategy for controlling inflation in Lithuania and providing that energy resource to your people?"
"Talking about the prices of energy resources, it has to be said, for example, that the government reduced gas prices by 20 per cent, after discussions with Gazprom," said Butkevičius. "And Lithuania already has and is importing gas via a liquefied natural gas terminal, for example, from the Norwegian company Statoil.
"So the risk factor that was so big before, with the dependence on Gazprom, is – how do we say – today we have the possibility of getting gas supplies from elsewhere. And what's more, in terms of the energy sector, in the coming year we have to finish two very ambitious electrical network projects, one with Sweden and another with Poland."