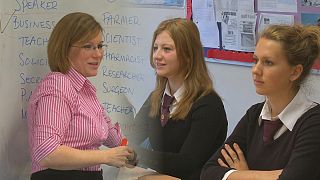 For its latest edition, Business Planet goes to South Wales where there is a plan to develop education and business side-by-side.
Each year, 350 entrepreneurs go into schools, colleges and universities, and as you'll see that's having a major impact on business start-ups by youngsters in Wales.
At Bassaleg school on the outskirts of Newport, not far from Cardiff, the teacher this morning is Abi Carter.
She set up her own forensic science company and at 29 years old she is also part of the "Dynamo Role Models" scheme, where Welsh entrepreneurs share their experience in schools.
She explained what she does and passed on advice to those youngsters who might want to follow in her footsteps.
Pupil Emma, 16, said: "Abi who spoke to us explained how you need to consider a lot of different elements. You need to look at the funding, you need to look at office space, your cost when you make a profit… It's a lot more complicated than we think it might be, but definitely rewarding at the end."
Classmate Matt, also 16, added: "I didn't know that you could get things like grants and a scholarship, and that sort of thing, from the Welsh government and universities. I didn't even know that. So, I've definitely learnt that.
Since the scheme was set up the number of people under the age of 30 who want to set up in business has leapt up. According to the European Commission, 20 per cent of those who take part in programmes like this will one day start their own enterprise.
"They don't have to necessarily go and start a business," said director of Forensic Resources Ltd, Abi Carter. "It's also very important for them to feel like an entrepreneur, and think like an entrepreneur. And whatever business they go into -whether they're part of a team or whether they're starting up on their own – they can also set up a company if they want to, to try to inspire them to realise that it is not as scary as they probably think it is."
Since setting up, Abi's company has taken on three employees and in 2010 she was named Female Entrepreneur of the Year in South Wales.
"I have learnt how difficult it is to have sole responsibility and sole control over everything," she said. "I have also really enjoyed the idea of having all the responsibility, and having people work with me, and having colleagues, and having a team of people. It's not easy but I have enjoyed being my own boss, for the last four and half years.
"My keys to success are: don't be afraid to ask for help, don't expect too much from yourself, and enjoy being your own boss, but be prepared to work hard."