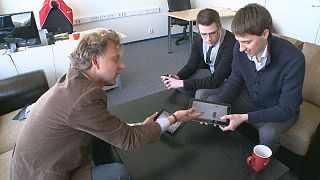 Tartu in Estonia is the country's second largest city and is also Europe's most online and technologically connected city. Here, you can set up a limited company online in just 24 hours. You can even vote via mobile phone. And the new Made in Estonia technologies are being exported worldwide.
A company called Fortumo was founded in 2007 by a group of students to create mobile phone payment systems for young people who do not have credit cards, and for use in emerging economies.
They very quickly realised they needed to expand abroad. To do so, they contacted the Enterprise Europe Network, a project set up by the European Commission which has 600 member organisations, from which SMEs (small and medium sized enterprises) can get advice, contacts, and all sorts of help when moving into new markets.
Martin Koppel, the CEO of Fortumo, said: "This has helped us to maybe take more risks and try to get into more markets than we would have done alone. That has given us a better financial background in order to do this."
Andrei Dementyev, the Head of Operations at Fortumo, added: "And we established several partnerships with other European companies through this partnership network, and through the contacts, through the meetings that we had with the help of various European programmes."
The company has now finalised partnerships with other SMEs in more than 60 other countries across the world. It has an office in San Francisco and works with the largest games developers in the world.
Andrei Dementyev explained: "Two years ago, we couldn't even imagine writing an email to such companies or think of working with them. Now we work for the 30 top world game developers. And we are hearing positive feedback from them. We like what they do and they like what we do and how we do it, and this is really the best sign of success for us."
There are other good signs too: they will be increasing their staff numbers from 25 to 35 employees this year. Turnover in 2011, was more than 4.3 million euros, double the figure from 2010.