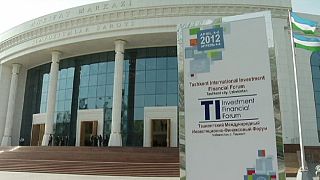 According to the International Monetary Fund Uzbekistan has coped well with the financial crisis, maintaining a budget surplus and low public debt. Even during the crisis, economic growth in the republic has stood at around eight per cent over the last five years.
Growth has continued unabated despite international concerns over human rights and democracy in the country. Prosperity in Uzbekistan has been fuelled by its natural resources, primarily gas, of which BP has estimated the country has in excess of 1.58 trillion cubic meters. Once processed, 40% is exported.
This year business representatives from more than 30 countries gathered in the Uzbek capital, for the fifth Tashkent International Investment and Finance Forum.
In attendance was Husan Khasanov, a representative of the Ministry of Foreign Economic Relations, Investments and Trade of Uzbekistan. He spoke of why Uzbekistan is so appealing for foreign investors:
"More than 60% of foreign investments are for the oil and gas industries. They hope to increase the transit capacity of gas in the Republic of Uzbekistan.
"As well as joint ventures in the oil and gas industry, investors are also interested in the petrochemical industry, particularly in the production of fertilizers.
Funded by the state owned Development Bank of China, holding company Uzbekneftegaz, together with the Chinese company CNBC is starting a project to vastly increase gas exports to China."
Most Uzbek gas exports have traditionally gone to Russia, but this is quickly changing with priority now switching east, to China.
Despite this thirst of industrialising nations, official figures from Uzbekistan show that only about 25% of the country's total hydrocarbon resources have been extracted so far.
Exports of natural gas are a vital for Uzbekistan's economy, accounting for much of its gross domestic product, but building on this the country is hoping next to exploit its large coal reserves, the second largest in Central Asia.