Brussels tells Italy: Respect budgetary rules like everybody else
Comments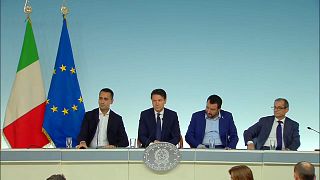 Brussels is preparing to get tough with Rome. In an interview with the Italian press in Brussels, the President of the European Commission expresses concerns on the draft budgetary plan that Italy sent to the European Commission on Monday.
Jean-Claude Juncker excludes a comparison with Greece but says that Italy must respect the rules like the others.
Accepting the deviation from European rules - he says - could trigger sharp reactions from other European partners.
Italy's debt is largely held by domestic banks, that makes the situation different from Greece where the debt was mostly in the hand of international investors.
"They are speculating they (Italy) can force the rest of the eurozone to take over a large part of the debt", says Georg Kirchsteiger, professor of Microeconomics at the European Center of Advanced Research in Economics and Statistics at the Free University of Brussels.
"I don't think this will happen but the outcome of this speculation could be very bad".
The president of the Eurogroup, Mario Centeno, is more cautious.
In a press conference in Lisbon, he invited not to overestimate the effects of the Italian budget maneuver.
"The euro is very resilient and strong to be hit by the budgetary law of a single member state", he said.
Meanwhile, this budgetary draft plan puts on the alert other European partners. Dutch Prime Minister Mark Rutte intends to bring the issue to the next European summit.