Macron's EU ambitions, one year on
Comments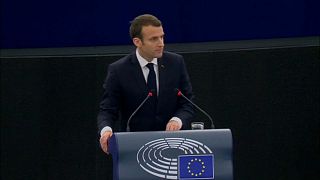 One year on from taking office, how far down the road is French President Emmanuel Macron with realising his ambitions for Europe?
A leader who wants the EU to deepen integration and to be more protective of its citizens.
Observers say Macron's made some progress, including over so-called 'posted' workers. Paris has long argued that it hurts local jobs and erodes labour protections in higher-wage member states.
Charles de Marcilly, from the Robert Schuman Foundation in Brussels, commented: "If we think consider the protection of foreign investments, if we think of the Posted Workers Directive, he was able to put the bar a little higher and turn it into a political victory, a personal victory. 
"But these policies were already under discussion when he came to power. On free trade agreements, on relations with Donald Trump, on security, on defense, we see that he brings something new. But again in a pretty skillful way that fits the European agenda."
On other fronts, Macron's charm may have been seductive, but the results so far questionable. His idea of a common budget for the euro zone hasn't worked out as well as he'd hoped.
"The first setback is on the future multi-annual financial framework, the European budget 2021-2027. We know that the French position would be to have a budget dedicated to the euro zone. This is not the case," said de Marcilly.
While Macron's presidency has re-energized the EU's Franco-German axis, in central and eastern Europe, it's been fanning fears of a "multi-speed" bloc.