Tspiras, Merkel differ over Greek Christmas giveaway
Comments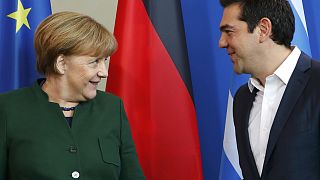 Greek PM Alexis Tspiras has met with Angela Merkel in Berlin after his government passed a planned Christmas giveaway for pensions in defiance of its international creditors.
A deal on debt relief has now been suspended.
"Our vision is that growth not only affects statistics and figures but that it heals wounds of the crisis and helps all those who made enormous sacrifices in the name of Europe and in the name of European stability," Tspiras told reporters.
The €617 pre-Christmas handout is opposed by the European Central Bank, the European Commission and the German chancellor.
"The Greek Prime Minister's view will play a role in our talks. our talks were not always easy, but our they were always honest and sincere with the goal of obtaining results," Merkel told a news conference.
Athens argues it can pay the money from a one billion euro tax surplus.
Greece is on its third bailout since being hit by a deep financial crisis in 2010.