EU warns eight countries on spending
Comments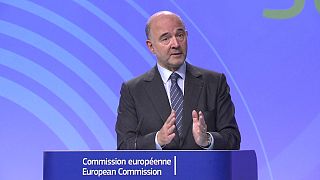 The EU has warned eight eurozone countries that their spending plans for next year risk breaking the bloc's spending rules.
They state that governments should not have deficits higher than three percent of their gross domestic product.
Those warned include Spain, Portugal and Italy.
The Italian government has said that it faced extra costs over the past year.
Its budget deficit is set to be 2.4 this year, far higher than the 1.8 percent Rome promised to hit by 2017.
The European Commission has granted extra leeway owing to a series of recent earthquakes and an unusually high flow of migrants into the country.
Spain and Portugal were also warned.
Both escaped being fined over their budget deficits in the summer, which stand at 5.1 percent and 4.4 percent respectively.