Boris Johnson wants UK to remain key partner in Europe
Comments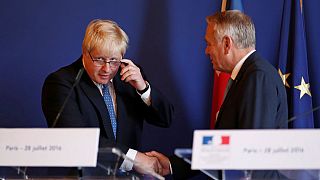 The British Foreign Secretary Boris Johnson has promised the UK will maintain close ties with its European neighbours despite the Brexit vote.
Speaking after talks in Paris with his French counterpart Jean Marc Ayrault, Johnson said the 'entente cordial' would remain special.
"Even though the UK has voted to leave the European Union it does not mean that we will be leaving Europe and we wish to be as close as possible to our allies, most particularly France, over the coming years," said Johnson.
Soon after Johnson's surprise appointment by Theresa May, Jean Marc Ayrault questioned the credibility of the man who spearheaded Britain's leave EU camp.
In a radio interview he said: "You know his style, how he behaved during the campaign: he lied a lot to the British."
But it's thought the pair had to put aside their differences over diplomacy and the EU to discuss the fight against Islamic extremism, Libya and the Middle East peace process.