The 500 euro note - could its days be numbered?
Comments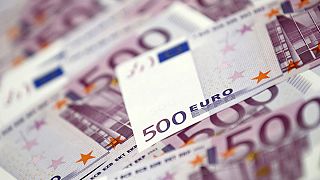 Finance ministers are calling on the European Central Bank (ECB) to look at ways of tightening access to 500 euro notes, in a bid to cut terror funding.
There are concerns that its high value makes it easy to carry large sums and launder cash.
There are even calls for it to be scrapped altogether.
"The 500 euro note is used more to facilitate transactions which are illegal, rather than allowing people like you and me to buy food," said Michel Sapin, French Finance Minister.
"Therefore, it is normal that we raise the question now about the use of this bank note."
The 500 euro note is one of the highest-valued in the world.
It makes up almost 30 percent of the euros held in cash and are more than five times the value of the largest US note, the 100 US dollar bill.
Germany was one of the early champions of the 500 euro note, matching the value of its old one thousand mark equivalent.
The ECB is also facing calls for limits to be brought in for cash payments.
The European Commission last week also proposed increasing controls on prepaid payment cards, virtual currencies such as bitcoin and other possible sources of financing for militant groups.