New deadline for Greek debt deal
Comments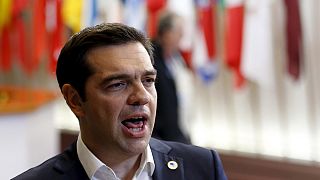 Eurozone leaders have given Greece until Thursday to present a comprehensive reform package to the Eurogroup finance ministers.
But the agreement came with a stark warning from European Council President Donald Tusk.
"Until now I have avoided talking about deadlines but tonight I have to say it loud and clear that the final deadline ends this week," he told reporters at a press conference after the summit. "All of us are responsible for the crisis and all of us have a responsibility to resolve it."
Participants said Tuesday's talks were constructive but the outcome still depends on the substance of the final Greek proposal.
Commission President Jean-Claude Junker said nothing could be ruled out.
"The Commission is prepared for everything: we have a Grexit scenario, prepared in details; we have a scenario as far as humanitarian aid is concerned; and we have – and that is the scenario that I prefer – a scenario to deal with the problem now, keeping Greece as a member of the euro area."
The summit was called after Greek voters gave a resounding no to the Eurozone bailout proposal in last Sunday's (July 5) referendum.
But time is running out. Greece must repay 3.5 billion euro to the European Central Bank by July 20 or risk crashing out of the euro.
A press release from the Eurogroup of finance ministers explained what will happen in the next few days:
Greece will submit a new request for assistance to the European Stability Mechanism on Thursday, July 8. Eurogroup President Jeroen Dijsselbloem will then ask the European Commission, European Central Bank and the International Monetary Fund to assess and analyse Greece's financial needs and debt sustainability.
Following the assessment, the Eurogroup will decide whether formal negotiations can start.
And again the same warning:
"All of this needs to be done in a matter of days, as we have very little time," Dijsselbloem told reporters as he left Tuesday's meeting.