Grexit could hit other eurozone countries
Comments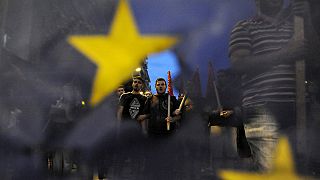 A Greek exit from the eurozone could send shockwaves through the single currency area.
If investors no longer see membership as permanent, they might ask countries such as Spain and Portugal to pay higher borrowing rates.
But members of the ruling-centre right People's Party in Spain say that the country can cope with a Grexit.
"Spain has the ability (to overcome the impact of the Greek issue). It is inside the European system and followed the rules. The European solutions are already at Spain's disposal as a member of the eurozone. And logically, the financial situation in Spain is different from the one of some member-states of the eurozone and the EU," said Antonio López-Istúriz, an MEP who sits with the EPP group in the European Parliament.
Portugal received a 78 billion euro bailout from the IMF and the eurozone countries.
It paid back 26 billion of IMF loans early in January of this year.
An MEP from the Portuguese left says there should also be concessions for Lisbon.
"There was an attempt to convince people that we paid all the debt, but we haven't. Our debt is as unsustainable as Greece's. The unemployment doesn't stop rising. The same thing for social differences and poverty," said Marisa Matias.
We share the same structural problems of Greece but the Greek people has the chance to decide, the Portuguese people don't.
Portugal exited its bailout in May last year, but both the IMF and the EU say it needs to make its exports more competitive to put its economy back on track.