Greece in new debt diplomacy, next funding crisis days away
Comments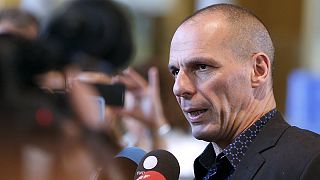 Fears mounted once again on Tuesday that Greece would fail to make a large debt repayment later this month.
We don't want to discuss (Greek) debt before we've concluded on reforms.
Athens must repay 970 million euros to the International Monetary Fund (IMF) by May 12.
Greek ministers have been doing the rounds among the country's lenders once again to plead for more flexibility but they got a lukewarm response in Brussels.
EU Finance Commissioner Pierre Moscovici insisted that Greece should reach agreement about economic reforms first.
"The Commission is working step by step. We don't want to discuss about (Greek) debt before we've concluded on reforms. I hope that by the next Eurogroup meeting on May 11th we will be able to say 'Yes, there has been progress, strong progress, and we are on the right track'," Moscovici told euronews.
But Greek Finance Minister Yanis Varoufakis was more optimistic after concluding his talks.
"It is important that the good progress that has been made is solidified and it brings Greece to a situation where we can all look forward to new arrangements with the institutions and our partners so as to overcome the liquidity difficulties that we all know Greece experiences."
Key differences remain over the extent of proposed reforms in Greece, especially over pensions, the public sector and the minimum wage.
But privatisation of regional airports and a majority stake in the port of Piraeus are now likely to go ahead.
The political uncertainty prompted the EU to slash its forecast for 2015 Greek economic growth to just 0.5 percent (from 2.5 percent just three months ago).
Meanwhile France and Germany are likely to see their economies improve over the next few months while the UK's recovery is expected to stay on track, according to data released on Tuesday.
EU officials say the bloc's massive quantitative easing programme, which began in March, has helped Europe's economic fortunes.