Greek government makes IMF repayment
Comments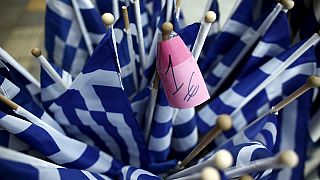 The Greek government said it met Thursday's deadline to repay 460 million euros to the International Monetary Fund. "The payment has been made," was the short statement from a government official.
Finance minister Yanis Varoufakis said on Thursday the government would restart the privatisation of state-owned business.
He called for the development of private-public ventures which would enable the government to retain a stake and so provide an income stream with which to finance pension funds.
The eurozone has said only six working days are left for Greece to come up with a revised list of reforms to seal a deal on its next rescue bail out.
"We anticipate the conclusion of negotiations and we believe with that we will not have to deal with these kind of hardships of liquidity that we face today," Dimitris Mardas, Deputy Finance Minister told reporters.
It's understood Greek delegates made an urgent appeal for cash at the meeting of deputy finance ministers in Brussels on Wednesday. The most critical repayment is due on May 12, 770 million euros to the International Monetary Fund.
But a meeting on April 24 could prove to be the key as to whether the country goes broke. That's when finance ministers of the currency bloc will meet to decide if they will release more funds to keep the country afloat.
Athens submitted a 26 page list of planned reforms last week but eurozone officials rejected them.