Greece and Germany 'kiss and make up'
Comments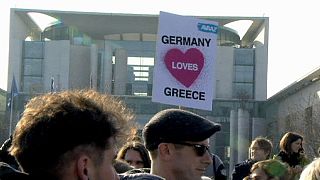 A group of some 250 couples have told Greece and Germany to kiss and make up.
Lovers from the two countries carried out an intimate protest in the streets of Berlin on Monday, calling for an end to the war of words between both governments.
Athens and Berlin have traded barbs over the past weeks. German officials grumble the Greeks aren't serious about reform and say the new left-wing government is wasting time.
The Greeks want a break from austerity. Officials have even raised the idea that Germany should pay reparations for crimes committed by the Nazis, angering the German public.
Ingo Salmen, a journalist from the Tagesspeigel newspaper, said the publication's readers found the rhetoric from Greek Prime Minister Alexis Tspiras too much to handle.
"They suggested to be more diplomatic sometimes, maybe this was not only addressed to Mr. Tsipras, but also to other members of the greek government. Because they say if they react or the behave the way they do now, it's just an easy job for the tabloid newspapers," Salmen told euronews.
German voters have long been sceptical about the eurozone bailouts. It was a view that was echoed on the streets of the German capital when euronews met with local people on Monday.
"I think the new Greek government has made big errors by failing to establish the necessary confidence. They have rather alienated their partners," said one man.
"I think it's called Grexit," said another local man, referring to the term for Greece quitting the single currency. "It is what the majority of the German population wants.
Berlin's official stance is that Greece must keep the euro, albeit seemingly out of step with public opinion
Yet one recent poll showed 52 percent of voters wanted Greece out of the single currency.
Nevertheless, more than 130,000 have people an online petition organised by campaigners Avaaz that calls on German Chancellor Angela Merkel to help fund Greece's health and education systems.