No talk of Greek euro exit, senior EU official says
Comments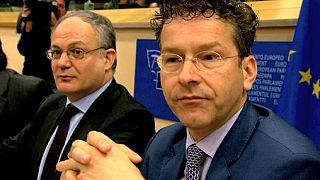 In Brussels, EU officials say Greece must stick to the path of spending cuts to restore its battered public finances.
Dutch Finance Minister Jeroen Dijsselbloem, who also chairs the Eurogroup, downplayed any talk of a possible Greek exit from the single currency, adding that only Britain had raised the issue.
"I only heard about one country where the cabinet had a meeting to talk about 'Grexit' and that was the British government."
"The Brits are as yet not a member of the Eurogroup. So no, it's not discussed, and it shows we have a very strong political commitment to keep the euro zone intact," he added.
The Eurogroup is the informal body of finance ministers from countries that use the single currency; it meets regularly to discuss and steer fiscal policy across the eurozone.
But some members of the governing Syriza party remain optimistic they can honour their election pledges.
"We are not only optimistic, we are determined to put an end to austerity, notably to the unilateral austerity against the poor and the middle class people," said Dimitrios Papadimoulis, an MEP for the left-wing party.
But centre-right parliamentarians say there is no other option for Athens, but to keep its spending in order.
Alain Lamassoure, a member of Nicolas Sarkozy's UMP party, said Greece can "pursue a social policy, in favor of all the disfavoured people" but "they have to finance these new policies by the contribution of the Greek taxpayers not by an increase in our contribution."
German MEPs also stuck to the national government's hawkish line on Greece's debt woes.
Bukhard Balz, who represents Angela Merkel's Christian Democrats in the European Parliament,
told euronews that "it's not up to the Greek government to deliver."
He said: "The question is if everybody sticks to the agreement in the end?"