Falling oil prices will spur EU growth, say economists
Comments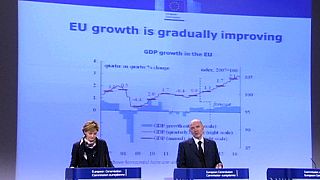 EU economists say the bloc faces brighter growth prospects this year owing to the falling price of oil and a weaker euro.
They predict the economy will expand by 1.7 percent this year, up from the 1.5 percent forecast in November.
Pierre Moscovici, EU Commissioner for Economic and Financial Affairs, says: "There is of course still much hard work ahead to deliver the jobs and the investment the european union and the euro area need – that's why all actors in europe need to use all available tools to strenghten our economic fundamentals."
But the ongoing Greek debt crisis looms large.
The EU executive said Greece would grow by a lower-than-expected 2.5 percent in 2015 amid haggling by Athens to relax the terms of an international bailout.
Officials also welcomed a European Central Bank plan to buy billions of euros in government bonds and other assets to prevent deflation.