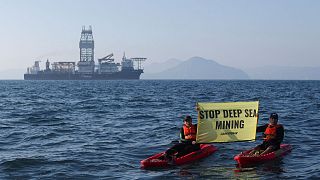 -
Copyright

REUTERS/Gustavo Graf
The French Parliament has voted in favour of banning deep-sea mining in its waters, in an emphatic move against the controversial practice.
The vote was won with an absolute majority yesterday (17 January) and the National Assembly is now urging the government to adopt the moratorium.
Deep-sea mining would see heavy machinery being used on the ocean floor to suck up small rocks containing rare metals. Though it's still at an exploratory stage, companies are very interested in the cobalt, nickel and manganese which could be extracted for car batteries.
But scientists are concerned about the potentially devastating impact on marine ecosystems. As well as the climate, given the vast amounts of CO2 stored at these depths.
Nicholas Thierry, the Green MP who tabled the motion, welcomed the vote as a "victory for the seabed and environmentalists" last night.
"What an accomplishment after several months of work with NGOs and MPs from different political persuasions, to finally see our resolution against seabed mining adopted in the Chamber!" he tweeted.
They can count on the President's support. Emmanuel Macron has already made his opposition to high-sea mining clear - most notably at COP27 where he called for a new legal framework to stop extractive activities from going ahead.
Why is deep-sea mining so dangerous?
From a darkening 200m and down, Earth's 'deep seas' make up 90 per cent of the ocean. Because they are so inaccessible, they still hold huge mysteries for science.
This lack of scientific knowledge constitutes a "major risk for the safeguarding of these areas", according to the National Assembly's new resolution, which calls them "the common heritage of humanity."
Most of the species in these remote ecosystems have adapted to the unique conditions of the ocean depths and are extremely vulnerable to human disturbance.
A still greater existential threat is the release of greenhouse gases sequestered in ocean soils.
In September 2022, Canadian firm The Metal Company got a 'test permit' to extract over 3,000 tonnes of polymetallic 'nodules' (small rocks) 4,000 metres deep in the heart of the Pacific.
Undercover footage from its first tests shows a black stream of sediment spewing from the ship. French newspaper Le Monde reports that this played a big role in the parliamentary discussion, which also saw Les Misérables author Victor Hugo quoted.
Resolved to set an example in its own waters, France has cancelled an "underwater exploitation demonstrator project", the paper adds.
How close is the world to deep-sea mining?
Deep-sea mining has been under the spotlight since July 2021, when The Metals Company and Pacific island nation Nauru triggered a UN rule that gives authorities two years to come up with regulations.
That deadline is fast approaching. But scientists have warned that even 10 years would be insufficient time to assess the ecological impacts.
France joins a growing number of governments calling for a ban or precautionary pause to deep sea mining in the meantime, including Germany, Spain, New Zealand and Costa Rica.
The European Parliament, the European Commission and the IUCN are backing the moratorium. Multinationals like Google, Microsoft, Renault, Samsung and Tesla have also committed not to source minerals from the deep seabed.
"We are very happy that the French Parliament has adopted this resolution," oceans campaign leader for Greenpeace France tells Euronews Green. But a critical mass of opposition is still needed before the July 2023 deadline.