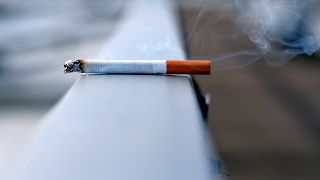 -
Copyright

Andres Siimon
Spain has ruled that tobacco companies will have to pay to clean up cigarette butts.
Millions of cigarette ends are tossed onto Spain's streets and beaches by smokers each year.
The new environmental regulations also include bans on single-use plastic cutlery and plastic straws.
The rulings are part of an EU-wide drive to reduce waste and promote recycling.
Tobacco companies to pay for cigarette clean up
Spain's new environmental regulations have ruled that tobacco companies will have to foot the bills for removing discarded cigarettes from the country's streets.
The measure comes into force this Friday, the Guardian reports.
Cigarette manufacturers are also obliged to remind consumers not to throw away butts in public areas.
Spain has not yet said how the clean up will be carried out and what it will cost tobacco companies.
A Catalan study by 'zero waste society' Rezero estimated the cost to be between €12-€21 per citizen per year - a total of up to €1 billion.
Cigarette companies are likely to transfer the cost to the consumer by increasing product prices, which could also work out as another incentive to quit.
Spain has also tried to reduce smoking in public areas by designating 525 beaches as smoke-free in 2021.
How harmful are cigarette butts to the environment?
With billions of cigarette ends discarded into the streets each year, they are one of the most common types of litter.
They take around 10 years to decompose and release toxic substances like lead and arsenic in the process.
Cigarette butts are also the most common type of marine pollution - above plastic bottles and bags - according to the non-profit organisation Ocean Conservancy.
Around 5 billion cigarettes are thrown into the ocean each year. The harmful substance they emit during decomposition can be lethal to sea creatures.
Spain bans single-use plastic cutlery
Spain's new environmental regulations also include bans on several climate-damaging products.
The initiatives aim to combat harmful waste and increase recycling.
The country has outlawed single-use plastic cutlery and plates, cotton buds, expanded polystyrene cups and plastic straws.
The ruling is in line with the European Union goals to limit single-use plastics.
France, too, has just brought in a ban on single-use packaging in fast food restaurants.