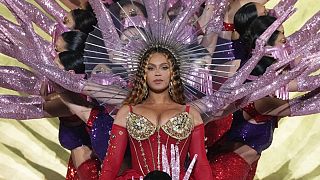 -
Copyright

KEVIN MAZUR/GETTY IMAGES FOR ATLANTIS THE ROYAL
Beyoncé performed her first live show in more than four years in an exclusive, invite-only concert in Dubai.
The Grammy-winning star, who last performed live in December 2018, gave a 1 hour+ performance on Saturday (21 January), complete with fireworks, to help launch the city's new luxurious hotel: The Atlantis Royal.
Attendees included her parents, husband Jay-Z and her three children, as well as celebrity guests (Kendall Jenner, Ellen Pompeo, Winston Duke, Letitia Wright), influencers and business people.
Attendees were not allowed to record video or take photos of the concert. Nevertheless, footage has started appearing online.
Beyoncé kicked off her bombastic and theatrical 17-song set by singing her version of Etta James' 'At Last,' which she also sang during Barack Obama's first dance with Michelle Obama on the night of his inauguration in 2009.
Her daughter, Blue Ivy, 11, received loud applause from the crowd when she came on stage to perform the sixth song of the setlist 'Brown Skin Girl,' the mother-daughter collaboration track that won a Grammy Award in 2021.
"Where are all my brown skin girls? Give it up for my baby, my brown skin girl, Miss Blue Ivy Carter," Beyoncé said.
A touching moment, but one lost in controversy, as Queen Bey's return wasn't to everyone's liking, leaving some fans disappointed…
The reportedly $24 million payday for Beyoncé didn't include any songs from her latest, Grammy-nominated 2022 Renaissance album — a love letter to dance music and a celebration of gay culture.
The location did not sit well with some of Beyoncé's fanbase, who have pointed out a certain hypocrisy at celebrating the LGBTQ community while turning a blind eye to promote a country where same-sex relationships are illegal and punishable by imprisonment or death.
Bev Jackson, co-founder of LGB Alliance said the performance "casts a shadow over her support for lesbians and gay people".
"Beyoncé is a huge icon for many gay people. LGB Alliance is deeply disappointed that Beyoncé has agreed to give a lucrative concert in Dubai, where same-sex sex acts are a criminal offence, potentially punishable by death," she said in a recent interview to The Telegraph.
The Beyhive took to Twitter to express their disappointment.
One fan wrote: "When you're that rich... largely, if not entirely, through the fierce loyalty of LGBTQ+ fans – what amount of money is simply too much to turn down to perform in a homophobic country?"
"Beyoncé isn't a LGBTQ+ ally when she's performing for money in Dubai and she literally doesn't need a penny of it" wrote another fan.
"So wait, lemme get this straight," one user said. "Beyonce comes out with a whole album dedicated to the LGBTQ community and then goes to perform for the first time in years in Dubai?! The same Dubai that's vehemently homophobic…?"
Others chimed in:
"beyoncé dedicates renaissance to her gay uncle then performs in dubai LOL fuck you girl. y'all a little too quiet about this."
"Are you all forgetting that Dubai is one of the most homophonic places in the world and all you gays are lapping up #Beyonce …..she's getting paid 24 million pounds to perform for a bunch of homophobic twats. She's not a idol of mines."
"i have to say it. beyoncé, you've let us down. realising an album steeped in gay culture, then getting paid millions to perform in dubai."
"why is no one talking about the fact that beyonce took a gig in DUBAI? where being gay is punishable by death? why does she get off with it cos it's beyonce? does she really need money that bad? Cba"
"Beyonce not performing songs from #Renaissance in Dubai, where beheading gay people is supported, doesn't excuse her recent blunder of performing for $ after appropriating our culture. She SHOULD HAVE performed recent songs to MAKE A STATEMENT!!"
Beyoncé joins a sizeable list of artists and queer icons who have performed in Dubai: Madonna, Lady Gaga, Kylie Minogue, and Elton John. Fans have lobbied artists to cancel concerts in the UAE and Saudi Arabia over the countries' human rights violations.
Beyoncé's performance also comes after David Beckham received much criticism for promoting the World Cup in Qatar.
Kitty Scott-Claus, a contestant on RuPaul's Drag Race UK, wrote on Twitter:
"Can someone explain why everyone was cancelling David Beckham the other month but now celebrating Beyoncé for performing in Dubai? One rule for one and one for another?"
Beyoncé also drew some fan ire when she performed a private New Year's Eve concert in St Barts for the son of Colonel Gaddafi in 2010. She was reportedly paid $2 million for the gig and her publicist later said the fee was donated to Haitian earthquake support relief.
Elsewhere, several other stars have pulled out of potentially problematic gigs over the years, including Demi Lovato and Nick Jonas, who cancelled their North Carolina tour dates in the US over a law called 'Anti-LGBT', and Nicki Minaj cancelled her show at Jeddah World Fest in Saudi Arabia in 2019.
As recently as December 2022, former Spice Girls Melanie "Sporty Spice" Chisholm pulled out of a New Year's Eve concert in Poland after being made aware of issues "that do not align with the communities I support."
Homosexuality has been legal in Poland since 1932, but same-sex marriage and civil unions are not recognized and it is illegal for same-sex couples to adopt children. Her move to cancel was praised by the LGBTQ community. 
The same could not be said of Justin Bieber, who performed at the Saudi Arabian Grand Prix in 2021, despite campaigners calling on him to cancel.
General access live dates for Beyoncé's Renaissance tour are yet to be announced.