Pro-Russian agents working to turn Germany against Ukraine
Comments
By Euronews with Reuters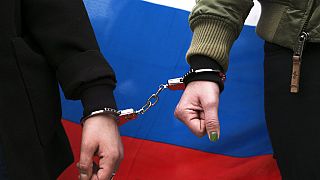 -
Copyright

Markus Schreiber/Copyright 2021 The AP. All rights reserved
Putin-supporting agents in Germany are working to turn Berlin against Ukraine, a Reuters investigation has found. 
The international news agency revealed that key figures campaigning for Germany to change course on Ukraine have links to the Russian government or far-right. 
They point to a campaign -- both online and on the streets -- which is urging Berlin to reconsider its support for Ukraine, voicing messages that tap into links between Germany and Russia, old Soviet ties to the Communist east and decades of German dependency on Russian gas. 
Germany -- Europe's largest economy -- is a key supporter of Ukraine within the EU, pledging massive amounts of military and civil aid to Kyiv. 
Reuters has established the identities of key figures involved in advancing Russian interests inside Germany, using interviews, social media posts and other publicly available information. 
One of those is Max Schlund, who was originally called Rostislav Teslyuk before he changed his name a decade ago. 
He has travelled to Russian-controlled east Ukraine in recent months, plus a Russian government agency -- currently under EU sanctions -- paid for his plane ticket to attend a conference where Russian President Vladimir Putin was a keynote speaker. 
The agency, Rossotrudnichestvo, was sanctioned by the bloc for overseeing a network of "influence" that was spreading Kremlin narratives. 
Its head branded the sanctions as "insane".
Another man,  Andrei Kharkovsky, was identified by Reuters. He has pledged allegiance to a Cossack society that is supporting Moscow's military campaign in Ukraine.
Both men did not respond to comment requests by reporters. 
Reuters found that many of the most vocal advocates for Germany changing its Ukraine policy use fake names and have hidden ties to the Russian state or the country's entities. 
German authorities have linked one of the people identified by the news agency with the far right. 
Some proponents of the extreme ideology were accused by German police in December of plotting to overthrow the government.
One runs a German-language social media channel called the "Putin Fanclub" and, echoing the alleged plot, called on social media early last year for the storming of the German parliament.
Germany has promised more than 1 billion euros in humanitarian aid to Ukraine so far, besides military equipment including advanced air defence systems. 
A majority of Germans support Ukraine, but soaring prices fuelled by a steep rise in energy costs have eroded approval for increasing military support. 
The German government did not respond to questions from Reuters. 
But the Interior Ministry said it views any attempts by other countries to influence Germany "very seriously", particularly "in the context of the Russian war of aggression against Ukraine."