Kosovo shuts border with Serbia amid worst crisis in years
Comments
By Euronews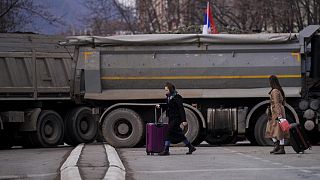 -
Copyright

ARMEND NIMANI/AFP or licensors
Kosovo closed its main border with Serbia on Wednesday amid one of the worst regional crises in recent years. 
The United States and European Union called for an "unconditional de-escalation" as political tensions bubble up between ethnic groups in the region. 
Last week, Serbian Prime Minister Ana Brnabic ruled that the situation was "on the verge of armed conflict".
Several hundred Kosovo Serbs have erected roadblocks in northern Kosovo since early December to protest the arrest of a former Serbian policeman, Dejan Pantic. 
He was released from prison and will be placed under house arrest, according to his lawyer on Wednesday.
Pantic was detained on 10 December for "terrorism" after allegedly assaulting a Kosovo police officer during an earlier protest.
Kosovo's Prime Minister Albin Kurti criticised the court's decision to release the ex-policeman on house arrest.
"I'm curious to know who is the prosecutor that makes a request and judge who approves a decision to place someone on house arrest when they have a standing terrorism charge," he said at a press conference.
Pantic's arrest prompted weeks of tense standoffs, punctuated by gunfire and explosions near patrols of the NATO-led peacekeeping force and journalists. 
No one was severely injured.
On Tuesday evening, dozens of protesters on the Serbian side of the border blocked traffic towards Merdare, the main border crossing to Kosovo, with trucks and tractors. 
"This illegal roadblock has prevented the free movement of people and goods, therefore we invite our citizens and compatriots to circulate through the other border posts," the police said in a statement.
Pristina also called on the NATO peacekeeping forces to clear the barricades.
Serbia does not recognise the independence of Kosovo, its former southern province. 
Kosovo, populated overwhelmingly by Albanians, proclaimed its independence from Belgrade in 2008, with the backing of the West. 
Serbia has encouraged the approximately 120,000 Serbs in Kosovo to challenge the local authorities, amid a push by Pristina to establish its sovereignty over the whole territory.
At the beginning of November, hundreds of Serbian police officers, as well as judges and other officials, resigned en masse in Kovoso. 
They were protesting a decision -- now suspended -- of authorities in Pristina to stop Serbs living in Kosovo from using registration plates issued by Serbia.
For more watch Euronews' report in the video above.